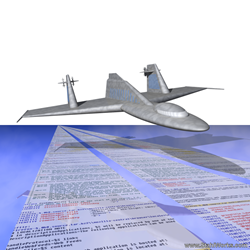 Shaped by industrial experience, to analyze projects with 50,000 text files.
Stuttgart, Germany (PRWEB) November 04, 2014
StahlWorks Technologies released Depeche View, a Windows tool to browse and search all text files of a folder at high speed. It allows a quick overview over all ASCII plain text files, like HTML documentation, source code, .CSV spreadsheet exports, XML data or log files.
The program comes with a new user interface optimized for speed:

One to three large windows show the content of thousands of text files as one long text.
Flying over text is possible by dragging the mouse, like on a Smartphone, or by soft scrolling with the mouse wheel.
Words are searched instantly by typing, or by clicking on them.
Search results are shown immediately in the same window.
Combined searches can be typed as plain English like "apple OR banana NOT applejuice".
Speaking bookmarks show the actual words that were marked.
Words can be colored for a quick overview in the nearer area.
One Click Search for advanced users: Depeche View may use all three mouse buttons to search in the current, left or right window. This requires a short training, but then it allows to jump through thousands of text files in realtime. Read more in the attached First Steps manual.
The program is used:
by data workers: if tables from a spreadsheet are exported as .CSV text and then loaded into Depeche View it allows massive repeated searches and editing at high speed.
by software developers: it allows to analyze and edit source code of huge software projects instantly with a few mouse clicks, to find errors and dependencies. Open Source projects contained in .zip, .tar.bz or .tar.bz2 files can be browsed without prior extraction.
to browse everything that is plain ASCII text: HTML documentation, configuration files, filename lists, XML files, log files, PDF documents saved as plain text - these all can be searched much faster within Depeche View.
"This program was shaped by experience in the automotive industry," tells Juergen Thumm, CEO and Author of Depeche View. "They have software projects with 50,000 source code files. And if one needs to find errors and dependencies in millions of text lines then this is the only tool to do so in realtime."
The integrated search engine searches one million text lines, or two miles of text, per second. This means searches are done at ten times sonic speed or higher.
Depeche View Professional runs with Windows XP/Vista/7/8 and costs $59.95.
A free 30 days trial is available, as well as a Freeware version that can load and search up to 100 files.
For journalists only is an enhanced demo available that can be run instantly, without installation.
Please read more under http://stahlworks.com/formedia.
StahlWorks Technologies (http://www.stahlworks.com) creates highly innovative software tools for power users, developers and anyone doing serious work with his PC or Notebook. The company is located in the south west of Germany.