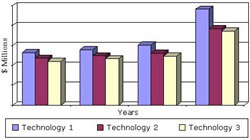 Global Market for Energy-Efficient Technologies to Reach $61.9 Billion by 2019
(PRWEB) November 03, 2014
Wellesley, Mass., November 03, 2014 – BCC Research (http://www.bccresearch.com) reveals in its new report, Energy-Efficient Technologies for Global Industrial Markets, the global energy-efficient industrial technologies market is estimated to grow to $61.9 billion in 2019, with a compound annual growth rate (CAGR) of 8.8%. The efficient motorized technologies segment is predicted to surge at a significant 9.8% CAGR from 2014 to 2019.
Strong growth is expected in several energy-efficient industrial technologies through 2019. Energy-efficient industrial heating and cooling; motorized technologies; and controls and energy management technologies grew notably from 2012 to 2014, from $36.1 billion to $40.6 billion, respectively, achieving a moderate CAGR of 6.1%, in spite of ongoing economic recovery in Europe, North America, and parts of Asia.
Among the technology categories, efficient motorized technologies is anticipated to maintain the largest market share and achieve the highest growth rate, increasing from $15.1 billion in 2014 to $24.1 billion in 2019, and reaching a CAGR of 9.8%.
"Energy-efficient technologies play a significant and comprehensive role in the reduction of energy consumption," says BCC Research energy and resources analyst Robert Eckard. "Although individual behavior and choices, such as shutting down equipment when not in use, can prevent unnecessary energy consumption or energy waste and qualify as energy conservation, energy-efficient technologies function in addition to an individual's conservation-oriented behavior."
Energy-Efficient Technologies for Global Industrial Markets provides a global overview of the market for industrial energy-efficiency technologies, with breakdowns by region and by major technology. It also assesses the market potential for these technologies over a five-year period from 2014 to 2019.
Editors and reporters who wish to speak with the analyst should contact Steven Cumming at steven(dot)cumming(at)bccresearch(dot)com.
About BCC Research
BCC Research publishes market research reports that make organizations worldwide more profitable with intelligence that drives smart business decisions. These reports cover today's major industrial and technology sectors, including emerging markets. For more than 40 years, we have helped customers identify new market opportunities with accurate and reliable data and insight, including market sizing, forecasting, industry overviews, and identification of significant trends and key competitors. We partner with analysts who are experts in specific areas of industry and technology, providing unbiased measurements and assessments of global markets. Our clients include the top companies in industries around the world as well as universities, business schools, start-ups, consulting firms and investment companies. BCC Research is a unit of Eli Research LLC. Visit our website at http://www.bccresearch.com. Contact us: (+1) 781-489-7301 (U.S. Eastern Time), or email information(at)bccresearch(dot)com.
Data and analysis extracted from this press release must be accompanied by a statement identifying BCC Research LLC, 49-2 Walnut Park, Wellesley, MA 02481, Telephone: (+1) 781-489-7301; Email: editor(at)bccresearch(dot)com as the source and publisher. Thank you.