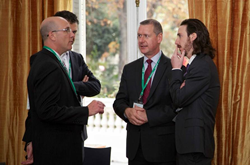 'Our service is discussed by dentists and other healthcare professionals with their patients'
(PRWEB UK) 3 November 2014
BioEden the specialists and pioneers of tooth stem cell banking have recorded a dramatic increase in sales, particularly in the UK where the increase has been 30%.
Tony Veverka, Group CEO, says that the increase in stem cell banking is due to a number of factors.
'Every day the media reports the success of stem cell therapies, from cartilage and organ replacement to most recently nerve repair in the spine, successfully treating paralysis. The public are increasingly aware that stem cell therapies can work and perhaps most significantly that they are in regular use in hospitals around the world.
Additionally our service is discussed by dentists and other healthcare professionals with their patients, and this activity has led to increased awareness of the opportunity for personalised stem cell banking'.