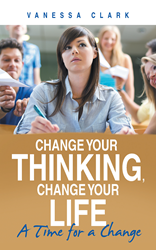 "We are in the last days and God wants us to live the best life we can while we are here. With his help, we can achieve it by changing our thinking."
Houston (PRWEB) November 04, 2014
Vanessa Clark has seen it all. Having worked with the Reverend Al Green and directed choirs of hundreds of people, her intriguing journey is a testament to her faith and values.
"Change Your Thinking, Change Your Life" is a spiritual guide for the aspiring Christian. Having been an ordained minister for years, Vanessa positions herself as a mentor sharing her experiences and advice with readers.
Touching on modern situations like motherhood, domestic violence and divorce, Clark ties in scripture and a spiritual application to these scenarios. While over 78% of Americans identify as Christians, Clark wishes to provide her spiritual input in regards to living a fulfilling life.
"We are in the last days and God wants us to live the best life we can while we are here", said Clark. "With his help we can achieve it by changing our thinking."
"All the answers are in the Bible and people are looking everywhere but there. I want to show them how. I found it and found how to trust God in every situation. I want to share my experiences and how Christianity has changed my life for the better".
"Change Your Thinking, Change Your Life"
By Vanessa Clark
For more information, visit Amazon, Google Books or Archway.
About the author
Vanessa Clark is a member of Joan Hunter Ministries. She attended Charis Bible College and worked for FedEx for 28 years. She lives in Houston and has two sons. Her hobbies include singing, reading and cooking.