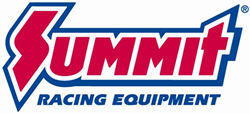 Tallmadge, OH (PRWEB) November 10, 2014
MSD is known for ignition components that deliver high-performance spark energy. Now, MSD has added the final piece to its ignition universe: the new performance Iridium Spark Plugs.
MSD Iridium Spark Plugs were featured on Episode 23 of PowerNation TV's Engine Power. Watch the full episode here.
The new spark plug design features a high-grade copper core surrounded by MSD's proprietary ceramic dielectric to isolate the spark's path to ground. As the plugs' name implies, the copper core has a center tip made from iridium—a super-durable material with excellent electrical conductivity. The iridium tip facilitates cold starting while greatly improving upper RPM spark versus a conventional plug. The complementing ground electrode has also been machined to optimize the exposure of the flame for improved combustion.
Several plug types are available, from shorty-style (perfect for small ignition wire plug boots and tight header clearances) to one-piece plugs made specifically for Ford modular motors. MSD Iridium Spark Plugs are sold individually or in sets of four.
SEE MSD'S IRIDIUM SPARK PLUGS AT SUMMIT RACING
Summit Racing Equipment
http://www.SummitRacing.com
1-800-230-3030