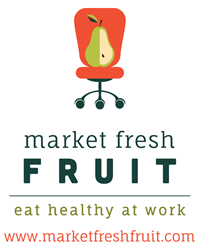 Fruit at work is a proven way to increase productivity and boost engagement when workers have a healthy choice over the junk food and candy stash found at most offices
Seattle, Washington (PRWEB) November 04, 2014
Market Fresh Fruit office delivery wholeheartedly supports National Eating Healthy Day. Many employees are happy to receive fresh fruit delivery such as apples, bananas, grapes, mandarins and more from a caring employer.
Companies report an increase in productivity and a boost in engagement when workers have a healthier food choices. For a 50 person firm, the productivity gains are like adding an additional 1 or 2 full-time employees for little cost.
"We see smiles break out around the room when we sample apples, bananas, grapes, mandarins and more to an engaged work group," states owner Tom O'Connor, owner of Market Fresh Fruit. "Fruit at work is a proven way to increase productivity and boost engagement when workers have a healthy choice over the junk food and candy stash found at most offices. And because we taste-test all our fruit beforehand, it's like having and orchard at the office."
According to the American Heart Association, if a commitment to healthy eating seems too tough to swallow, then start with a taste test. National Eating Healthy Day is a great time to try some new habits that just may stick. Little by little, you'll start to see a difference in how you feel and look.
"Adopting healthy behaviors — whether it's increasing physical activity or eating healthier — happens one day at a time," said Rachel K. Johnson, Ph.D., MPH, RD, chair of the American Heart Association's nutrition committee. "If you devote one day to healthy eating, you will know you can do it again and learn to enjoy it."
Market Fresh Fruit - Eat Healthy At Work is a small, local company with "roots" in the Pike Place Market. Clients report and increase in productivity and a boost in morale because by giving their employees a healthy choice over the mindless eating- the empty calories, granola bars or even candy stash- that tempt workers throughout the day. They visit the Pike Place Market twice a week, taste-testing and selecting just the best fruit at the breaking point of ripeness. Then they bulk purchase up to 6 different and in-season fruit varieties, and repack it into office parcels for quick at-work dispersal. It's a low-cost, easy and turnkey way to eat healthy at work. Their packages start out as low as $45 for up to 40 servings/pieces of delicious fruit. Learn more at http://www.marketfreshfruit.com