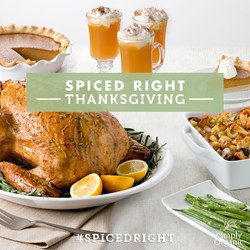 "We want people to understand your holiday meal can be more than just delicious this season," said Ellen Bouchard, senior brand manager for Simply Organic.
Norway, Iowa (PRWEB) November 04, 2014
Simply Organic® wants consumers to treat their family to organic recipes that set the table for eating right and living well this holiday season as part of its "Holiday Recipes Spiced Right" campaign.
The campaign includes a microsite full of holiday recipes and sourcing stories highlighting the brand's work with spice growers around the world.
"Holiday meals can be more than just delicious this season," said Ellen Bouchard, senior brand manager for Simply Organic. "Our organic spices ensure unsurpassed flavor and, because of our sustainable practices, consumers can rest assured they've come from the right source."
One example the brand highlights is its award-winning vanilla extract. Made from premium Madagascar vanilla beans, the extract not only has ultra rich in vanilla flavor, but also rich in goodness. Simply Organic has dug nearly 40 wells to make clean water accessible to the Madagascar communities where the vanilla is grown. Additionally, one percent of sales on all Simply Organic products support organic agriculture through research, education and grower development.
"Every time some one buys Simply Organic spices, seasonings or extracts, they are helping make a difference," said Bouchard. "Together, we're spreading sustainable, organic agricultural practices across the planet."
Consumers will have an opportunity to join the campaign by sharing how they "Spice the Season Right" on Facebook, Twitter and Instagram using the hashtag: #SpicedRight. There will be six weekly prize packages, and grand-prize winner will get a "Stocked Right" kitchen complete with the right cookware, the right gadgets and the right pantry items valued at $1300.
Learn more about the campaign and give-away at our web site.
NOTE: High resolutions images and a full list of recipes included on the site are available upon request.
Simply Organic®
Simply Organic®, an all-organic brand from Frontier Co-op™, offers an extensive and growing selection of certified organic spices, seasonings, and baking flavors while supporting organic agriculture around the globe. By providing the best available organic seasonings and donating one percent of sales to organic agriculture and education, Simply Organic genuinely offers "Pure.Simple.Joy." Find out more about Simply Organic at http://www.simplyorganic.com.
Frontier Co-op™
Founded in 1976 and based in Norway, Iowa, Frontier Co-op offers a full line of natural and organic products under the Frontier, Simply Organic, and Aura Cacia® brands. Products include culinary herbs, spices and baking flavors; bulk herbs and spices; and natural and organic aromatherapy products. Frontier's goal is to provide consumers with the highest-quality organic and natural products while supporting and promoting social and environmental responsibility. For more information, visit Frontier's website at http://www.frontiercoop.com.