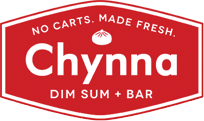 (PRWEB) November 10, 2014
Chunna Dim Sum in Los Angeles is excited to announce that they have introduced some new items to their already robust food options.
Chynna GM Thomas Wu said the restaurant has added garlic parmesan fries and spicy beef tacos to the menu for its guests to enjoy.
Chynna, known for its traditional Chinese cuisine and dim sum, is excited to have new items for its guests to try.
"We want our guests to come in and enjoy great beers and the best dim sum in Los Angeles with a great environment," Thomas Wu said. "The new items are just more great food for our customers to experience."
Chynna prides itself on "No carts. Made fresh." The restaurant also has great local craft beers, which they offer for only $5.50 during Happy Hour, which is daily from 5-7 p.m.
The restaurant is open Monday-Thursday from 11am-3pm for lunch and 5pm-10pm for dinner. Chynna's weekend hours are 11am-1am on Friday and Saturday, and 11am-9pm on Sunday.
You can learn more about Chynna Dim Sum at http://www.chynnadimsum.com/.