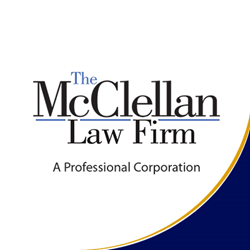 (PRWEB) November 04, 2014
The McClellan Law Firm was named among the "Best Law Firms" of 2015 by U.S. News – Best Lawyers®, an annual publication that recognizes law firms across the nation that exhibit a high level of professional excellence and impressive ratings.
These ratings are based on both peer and client reviews. In order to qualify for the listing, law firms must undergo an intense evaluation process that measures their legal prowess, ethical standards, and overall reputation in a given area of law. The McClellan Law Firm was selected for the U.S. News – Best Lawyers® "Best Law Firms" listing in 2014 as well.
In order to gain admission to the list, firms must first be included in The Best Lawyers in America Listing. This listing only includes the top four percent of lawyers practicing in the United States.
During the selection process, more than 17,000 legal professionals provided feedback in nearly 600,000 law firm evaluations. Additionally, 7,500 clients offered input in more than 40,000 assessments. After collecting massive amounts of raw data, U.S. News – Best Lawyers® measured each candidate using its law firm ranking system. Only the leading firms were selected for inclusion in the "Best Law Firms" listing.
The final list is a reflection of each firm's commitment to professionalism, integrity, and the highest level of legal professionalism in the legal field. The list acknowledged law firms from 120 metropolitan practice areas and 74 national areas of practice.
The McClellan Law Firm practices personal injury law in San Diego, California. For additional information about personal injury law and The McClellan Law Firm, please visit http://www.mcclellanlaw.com.