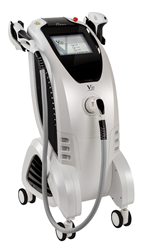 Combining NOI's Canadian expertise and service with Viora's advanced medical aesthetic systems, opens new doors for businesses to easily acquire the right product for the right partners and practitioners
Jersey City, N.J. (PRWEB) November 06, 2014
Viora Canada Ltd, a subsidiary of Viora Inc, a leading medical aesthetic solutions provider, has partnered with Northern Optotronics Inc. (NOI), a Canadian medical services and tech support company. NOI will now be authorized to sell and support Viora's products and technologies throughout all of Canada, with the exception of the province of Québec.
"Combining NOI's Canadian expertise and service with Viora's advanced medical aesthetic systems, opens new doors for businesses to easily acquire the right product for the right partners and practitioners," said Mr. Jean Marc Poirier, president of NOI.
Viora has a full range of advanced non-invasive solutions which allow practitioners to offer their clients a wide gamut of aesthetic procedures ranging from skin rejuvenation to hair removal. With NOI's established and reliable services, Viora's products will now not only reach more people, but will also be paired with local service and tech support. This is due to NOI's team of highly skilled engineers and technologists who assist in all operational and support needs, and its customer service team that provides maintenance and repair assistance.
NOI's experience in service appealed to Viora, a customer-satisfaction-driven company itself, according to Viora Ltd. CEO, Mr. Eliran Almog.
"Viora's excited to partner with an organization at the caliber of NOI, which promises to improve our presence and customer service in Canada," Almog said. "This agreement will benefit countless patients who are looking for the most convenient and painless aesthetic procedures, and medical practitioners wanting top-notch local service. There's no downside to this partnership; everyone is a winner.
About Viora
Viora is an award-winning medical aesthetics solutions company that's established in over 65 countries. Viora's skilled and knowledgeable clinical and technical teams, working with clinicians around the world, have produced innovative, proprietary technologies such as CORE™, SVC™ and PCR™. These technologies have revolutionized non-invasive treatments to improve control and increase opportunity for practitioners, while enhancing patient experience. In addition, this in-house expertise has been at the forefront of implementing new developments in response to market demand, improving upon treatments using existing technologies such as laser and IPL. For more information, visit http://www.vioramed.com.
About Northern Optotronics Inc. (NOI)
Northern Optotronics Inc. (NOI) has been in the medical device industry in Canada for 17 years. Beyond offering a number of certified pre-owned lasers, phototherapy and analytical devices, NOI has highly skilled engineers and technologists who offer insight and knowledge on technology issues and a service team that provides maintenance and replacement parts quickly and efficiently. NOI provides its renowned services to east, central and west Ontario. For more information, visit http://www.noi.ca.