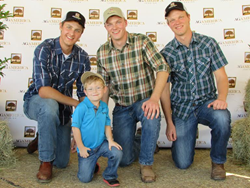 We could definitely feel the connection with the Peterson Farm Brothers.
Lakeland, FL (PRWEB) November 12, 2014
AgAmerica Lending, the premier ag lending company across the U.S., is pleased to highlight the success of the recent Annual Sunbelt Agricultural Exposition - the largest agricultural show of the Southeast - which took place in Moultrie, Georgia, October 14-16.
On hand for Sunbelt Expo this year were YouTube sensations, the Peterson Farm Brothers, sponsored by AgAmerica to perform and promote the story of agriculture through their parodies of popular songs.
Peterson Farm Brothers' performances enjoyed quite the turnout, and even attracted some special coverage by RFD-tv (Rural America TV), which features the brothers, their devoted fans and a special appearance by Leigh Ann Wynn, AgAmerica's Senior VP of Business Development.
"The Peterson Farm Brothers are definitely advocates for farming and most of us at AgAmerica Lending have agricultural backgrounds," says Wynn. "We could definitely feel the connection with the Peterson Farm Brothers."
Watch the event coverage, featured on the Georgia Farm Monitor's YouTube channel.
ABOUT AGAMERICA
AgAmerica Lending is a real estate-based ag lending company located in Lakeland, Florida. AgAmerica covers agricultural loans across the entire U.S., helping farmers and ranchers with low-interest rates, long amortizations, no prepayment penalties, and an outstanding Line of Credit product.
ABOUT THE PETERSON FARM BROTHERS
The brothers and their parody videos went viral online over the last two years, with over 15 million views alone for their top parody "Farmer Style." The three Peterson brothers, Greg (23), Nathan (20), and Kendal (17), have performed overseas as well as presented their wholesome farming background to audiences of thousands. It is with this newfound platform that they have risen to take their agriculture message and spread it across the world. Their top parodies, including "All I Do Is Farm" (All I Do is Win Parody) and "BALE!" (Sail Parody), can be viewed on their YouTube channel: http://www.youtube.com/thepetersonfarmbros.
ABOUT SUNBELT AG EXPO
Crowned as North America's Premier Farm Show® and the largest Farm Show in America with field demonstrations, the Sunbelt Ag Expo brings together all segments of rural living from research and education to the live farm harvest and agribusiness. Add in rural lifestyle fun, truck, tractor, and ATV test drives and sports and the venue is perfect for rural enthusiasts.