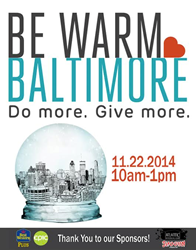 Last year we were able to bless over 500 people with unwanted goods contributed from all over the city, this year we hope to exceed that number.-Rob Kowalski
Baltimore, MD (PRWEB) November 13, 2014
Be Warm Baltimore is an annual opportunity to bless individuals of Baltimore with unwanted goods contributed from all over the city. With the efforts of Epic Church and all its volunteers, Be Warm Baltimore 2013 was able to serve over 500 people, distributing over 300 coats and countless other items that would warm hearts.
This fall, please join Be Warm Baltimore in providing new and gently used winter coats, hats, and gloves to Baltimore's families in need. The donated clothes will not only fulfill a family's physical need but give them much-needed confidence to not just survive, but thrive this winter.
Be Warm Baltimore hopes to exceed last year's numbers at its 2014 event located at the Best Western Travel Plaza from 10am to 1pm on November 22nd. Volunteers are needed to assist in set up, serving, prayer, socialization and clean up. If interested, please contact Kim at kfoster1981(at)gmail(dot)com. Don't miss out on this opportunity to serve the Baltimore community!
Donated clothing can be dropped off at these sites:
Best Western - Baltimore Travel Plaza
5625 O'Donnell St
Baltimore, MD 21224
Spunk Fitness
8502 Kelso Dr
Essex, MD 21221
Signal 88 Security of Maryland
11605 Crossroads CIrcle, Suite F
Baltimore, MD 21220
Pug's Fuel Oil Service
2703 Sparrows Point Rd
Baltimore, MD 21219
Open Monday-Friday from 8-4
Cash Mart
700B Merritt Blvd
Baltimore, MD 21222
Open Tuesday - Friday 8AM - 7PM and Saturday 8AM - 2PM
Studio 1622
531 S. Ann St
Baltimore, MD 21231
Howard Community College
10901 Little Patuxent Parkway
McCuan Hall, Room 200
Columbia, MD 21044
East County Times
531 Eastern Blvd
Essex, MD 21221
Be Warm Baltimore thanks this years sponsors - DAASN, LIF(e) Marketing, Atlantic Remodeling Corp., and Shogun Fights - for helping us bring warmth to the needy. Here's a little bit more about them:
DAASN was founded in 2009, inspired by the belief that success in business is fueled by the relationships you build. DAASN specializes in web presence, which means that it has access to all the latest marketing tools to help companies navigate the complicated geography of the web. Through the use of social media, search engine optimization, web PR, and content marketing, DAASN helps businesses get found.
Social media marketing is essential in today's business environment, but it's time-consuming and social media platforms are rapidly changing. LIF(e) Marketing does all the work on social media, allowing clients to do what they do best: run their businesses. Meanwhile, LIF(e) does what it does best: creating and sustaining a powerful online voice for businesses and the communities they serve.
Founded in 2000, Atlantic Remodeling is a Maryland-based residential remodeling firm specializing in energy efficient window, siding and roofing solutions. Recently ranked #135 by Qualified Remodeler, Atlantic Remodeling has been recognized as one of the Top 500 remodeling companies in the nation five years consecutively. Our mission is to become the number one specialty firm in the mid-Atlantic region while exceeding all client expectations. As a privately owned business, the owners of Atlantic Remodeling know what it takes to excel, each with over twenty years of trade experience. With over 25 full-time employees in the field, our installers know what it takes to get the job done right the first time.
Shogun Fights is a Baltimore, Maryland based mixed martial arts (MMA) organization. Shogun Fights was establised in early 2009 with the goal in mind to showcase Maryland's and the Mid-Atlantic regions future MMA stars. Since the inception for the concept of Shogun Fights, promoter John Rallo and his staff have strived to provide safe, highly competitive and well matched fights. Through our dedication, determination, and a strong desire to succeed, we expect to establish ourselves as the leading professionally run MMA organization in our area. Shogun Fights would like to welcome all of the local fighters, trainers, gyms/academies and fans of MMA to participate in our events, whether as a competitor or as a spectator.