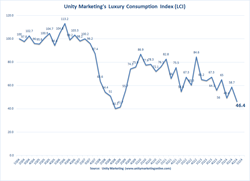 The affluent's lack of confidence in the overall direction of the country in a critical factor in the decline of the LCI.
Stevens, PA (PRWEB) November 07, 2014
In Unity Marketing's latest survey of affluent consumer confidence, the Luxury Consumption Index (LCI) took a 12.3 point dive to 46.4 points. That's the lowest level it's been since the recession, in 4Q08 & 1Q09.
Pam Danziger, president of Unity Marketing and lead researcher in the Affluent Consumer Tracking Study (ACTS) explains, "All five key questions that go into the calculation of the LCI tanked in the latest survey. This sets up a bleak Christmas shopping season, since the affluent represent only 20% of U.S. households (24.5 million out of total 122.5 million), but account for more than 40% of all consumer spending. Perhaps the mid-term election results will turn the tide of doom and gloom among the affluent consumer segment, but we won't see any real improvement in the economy until next year when the new Congress comes into power. The affluent's lack of confidence in the overall direction of the country in a critical factor in the LCI."
Tom Bodenberg, Unity Marketing's economist, explained the affluents' consumer sentiment that went into the LCI calculations, "Affluent consumers are sitting on the sidelines instead of getting in "on the action. The chief culprit which will factor into the holiday shopping season is the volatility of the stock market which accounts for current softness in the demand for luxury goods and services. It's safer on the sidelines."
So despite recent gains in the residential real-estate marketplace, and stabilization in workforce participation, the affluent still feel uncertainty on the economic front. Bodenberg notes this is particularly exacerbated due to the mid-term election and its impact on equity and debt markets, which drive wealth and discretionary spending. "It is no wonder why stores will be open Thanksgiving evening. The fact that there is one more "shopping day" this year is not slowing the growth of this. No matter how the virtual marketplace (i.e., on-line, mobile) grows, consumers still need to see the merchandise, experience (tangentially, at least) the desired, etc. And, retailers are nervous," Bodenberg says.
Unity Marketing leads with syndicated as well as customized research to help businesses gain insights into their core customers and their best target customers – the affluent who have discretionary income to spend.
Danzgier concludes, "Many businesses face challenges in today's hyper-competitive market with customers that may be looking but all too infrequently buying. Catering to the affluent consumers at the top 20% of the income range is a strategy that more businesses should be focused on and Unity Marketing has research and resources to help plan ways to do that."
About Affluent Consumer Tracking Study (ACTS)
Unity Marketing's ACTS survey measured affluent consumer confidence in the fourth quarter 2-14, as well as their shopping behavior across 24 different types of shopping environments, including:

General merchandise stores (such as Macy's, JC Penney's, Target, Costco, Saks 5th Avenue, Bloomingdales and more),
Luxury boutiques such as Ralph Lauren, Louis Vuitton, Coach, Prada, Chanel and more;
Fashion & Clothing stores such as Ann Taylor, Banana Republic, JCrew, Anthropologie and more;
Jewelry stores, like Tiffany's, Cartier's, Zale, Kays and others;
Home stores, such as Bed Bath & Beyond, Restoration Hardware, Crate & Barrel, IKEA, Ethan Allen ;
Beauty stores, such as Art of Shaving, Sephora, Ulta and more;
Other specialty stores, such as art galleries, book stores, craft stores, hardware and home improvement, electronics stores, major appliance stores, wine & spirits stores, optical and sunglass shops, and more.
Online and direct-to-consumer retailers, including etailers, flash sites, television shopping and catalog marketers; plus
Purchases in five different services, including travel, dining, physician discretionary services, spa/salon & home/interior decorators.
About Pam Danziger & Unity Marketing
Pamela N. Danziger is an internationally recognized expert specializing in consumer insights for marketers targeting the affluent consumer. She is president of Unity Marketing, a marketing consulting firm she founded in 1992. Pam received the Global Luxury Award for top luxury industry achievers presented at the Global Luxury Forum in 2007 by Harper's Bazaar. Luxury Daily named Pam to its list of "Women to Watch in 2013." She is a member of Jim Blasingame: The Small Business Advocate's Brain Trust and a contributing columnist to The Robin Report.
Pam's latest book is Putting the Luxe Back in Luxury: How new consumer values are redefining the way we market luxury ( Paramount Market Publishing, 2011). Her other books include Shopping: Why We Love It and How Retailers Can Create the Ultimate Customer Experience, published by Kaplan Publishing in October 2006; Let Them Eat Cake: Marketing Luxury to the Masses-as well as the Classes, (Dearborn Trade Publishing, $27, hardcover) and Why People Buy Things They Don't Need: Understanding and Predicting Consumer Behavior (Chicago: Dearborn Trade Publishing, 2004).