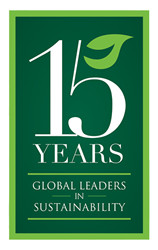 Chapel Hill, N.C. (PRWEB) November 06, 2014
Successful entrepreneurs will discuss how their innovative ventures in agriculture, food-waste recycling and sustainable wine growing are addressing global agricultural concerns at a Nov. 18 event at the University of North Carolina Kenan-Flagler Business School.
Entitled "Saving the Planet Through Entrepreneurial Approaches," the event will include a keynote presentation and panel discussion with:

Keynote presenter Jason Aramburu, founder of re:char, which uses low-cost technologies to help East African farmers fight climate change while improving the quality of degraded soils
Panelist Daniel Blake, founder of EcoScraps, which provides premium quality organic soils in an environmentally friendly way
Panelist Andy Zeman, founder of Benjamin Vineyards and Winery, a family-owned and sustainable winery in Alamance County, North Carolina
Carol Hee, director of the Center for Sustainable Enterprise and a clinical associate professor of strategy and entrepreneurship at UNC Kenan-Flagler, will moderate the panel.
The event is organized by the Center for Sustainable Enterprise and the Campus Y.
It will be held from 6:30-8 p.m. in the Kenan Center Dining Room. A buffet and networking with green entrepreneurs will precede the event from 6-6:30 p.m.
The event is free, but please register at http://www.eventbrite.com/e/saving-the-planet-through-entrepreneurial-approaches-tickets-13970559319. Free parking is available in the Business School parking deck only.
The event is part of the third annual UNC Global Entrepreneurship Week, Nov. 17-23 and presented by Blackstone Entrepreneurs Network, Innovate@Carolina and the Frank Hawkins Kenan Institute for Private Enterprise. For more information about the week's events, visit http://www.gewunc.com/#!about/cjg9.
UNC Kenan-Flagler is celebrating its 15th anniversary as a global leader in sustainable enterprise.
#
About the University of North Carolina Kenan-Flagler Business School
Consistently ranked one of the world's best business schools, UNC Kenan-Flagler is known for its collaborative culture that stems from its core values: excellence, leadership, integrity, community and teamwork. Professors excel at both teaching and research, and demonstrate unparalleled dedication to students. Graduates are effective, principled leaders who have the technical and managerial skills to deliver results in the global business environment. UNC Kenan-Flagler offers a rich portfolio of programs and extraordinary, real-life learning experiences: Undergraduate Business (BSBA), full-time MBA, Executive MBA Programs (Evening, Weekend and global OneMBA®), online MBA@UNC, UNC-Tsinghua Dual-Degree EMBA, Master of Accounting, PhD, Executive Development, and UNC Business Essentials programs. It is home to the Frank Hawkins Kenan Institute of Private Enterprise.