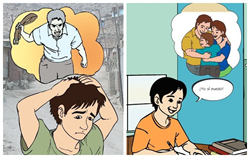 Our goal is to help them understand that they can not only change the way they parent, but also contribute to putting an end to violence against children and teens
Phoenix, Ariz. (PRWEB) November 06, 2014
High in the Andes mountains of Peru, daily life is a struggle. Millions of families have migrated from rural areas to seek work in the settlements that surround the city of Lima. While employment and poverty are certainly huge problems in these urban slums, an August 2010 study conducted by Food for the Hungry (FH) showed that the greatest concern of the families in the area was actually violence, both its causes and effects.
According to a United Nations study, one-third of Peruvian children and adolescents are victims of abuse, with 41 percent of parents using abusive punishments to discipline and correct their children's behavior. Unfortunately this cycle of abuse is being passed from one generation to the next. Statistics show that between 70 percent and 80 percent of parents who were abused in their childhood grew up to repeat the same violence against their own children. Even if parents want to make a change, they often lack the knowledge and capacity to raise their children in a different way.
To put an end to this continuing problem, FH developed a program to educate the community about a different non-violent approach to parenting. The violence prevention curriculum developed by FH provides parents with the knowledge, guidelines and opportunities to reflect on their personal experiences and helps them change their parenting strategy.
"We're working to change parents' attitudes," said Noemi Gamonel, FH Peru program director. "Our goal is to help them understand that they can not only change the way they parent, but also contribute to putting an end to violence against children and teens."
Through the curriculum sessions as well as opportunities for peer counseling, parents are encouraged to leave the culture of violence behind, and adopt biblically based parenting strategies. This parent training is carried out through the proven methodology of Cascade Groups, where mothers and families are organized into small neighborhood groups that elect a leader who is then trained with the curriculum. These elected community volunteers, then replicate the curriculum lessons to their small neighborhood group (either in groups or one-on-one), giving other mothers the opportunity to reflect on new learning and make a commitment to change. They are also equipped with peer counseling skills, and are given ongoing motivational and supervisory support from an FH staff person. Using this methodology, FH has been able to reach many families in a personalized, relational way with minimal cost.
Founded in 1971, Food for the Hungry provides emergency relief and long-term development programs with operations in more than 20 countries to help the world's most vulnerable people. Learn more by visiting http://www.fh.org. Social connections include http://www.facebook.com/foodforthehungry and http://www.twitter.com/food4thehungry.