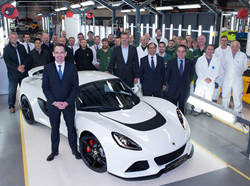 It is thanks to the considerable talent and experience across our UK manufacturing facilities and at our Hethel headquarters that we are able, and proud to give this exceptional machine a Lotus badge.
(PRWEB UK) 8 November 2014
Since its launch in 2012, the Exige S, and its Roadster sibling, has achieved critical acclaim for its agility and handling performance, receiving praise from the international media and high profile accolades. The Exige has been impressing customers too, particularly in Japan where the car has received most of its orders followed by the UK, Switzerland, Australia, Hong Kong and Belgium.
Lotus continues to expand the appeal of the Exige S and the 1000th car (pictured) is destined for Lotus's Test and Development team where it will be used for the final sign-off of the new automatic gearbox, an optional extra that can be specified on either coupé or Roadster variants.
Lotus Cars Chief Executive Officer Jean-Marc Gales commented, "Our customers want a pure driving experience and the Exige S epitomises the Lotus DNA of performance and handling excellence. It is thanks to the considerable talent and experience across our UK manufacturing facilities and at our Hethel headquarters that we are able, and proud to give this exceptional machine a Lotus badge."
Gales continued, "We have just recorded our strongest October since 2009 for sales which demonstrates the demand for Lotus cars, but we also acknowledge the strong global demand in new markets. There is incredible potential for growth in the Middle East, China and ASEAN countries, where the automatic option for the Exige is anticipated to stimulate customer demand further."