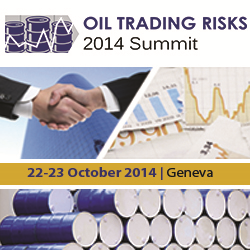 It's an IRN Summit!
London (PRWEB UK) 7 November 2014
Senior level speakers from oil trading companies and oil consuming businesses gathered two weeks ago in Geneva to discuss market, financial, regulatory, political and financial risks associated to oil trading.
The meeting was opened on the first day by Bruce Urquhart, Director-Trading and Risk of Irving Oil, with a presentation that gave delegates a complete overview of the latest trends in oil trading markets. On the afternoon of Day 1, Khaja Qureshi, Head of Middle Office ST Group at Socar Trading went through his company's strategy when it comes to risk quantification and capital allocation. The detailed presentation covered the calculation of the Value-at-Risk, based on historical prices, and the expected shortfall.
The Summit also analysed the challenges for Oil Consumers with sessions giving their perspective at the end of the first day of the meeting. Murat Misirci from Turkish Airlines and Neil Moyes from Lufthansa participated in a panel discussion around forecasting fuel requirements, building an efficient fuel hedging programme and minimising oil price volatility's impact on fuel procurement.
Day 2 of the Summit included an insightful presentation by the Chairman of the conference, Hassan Al-Alawi, Manager – Portfolio Management and Chairman ERM/BCM Corporate Committee at The Oil & Gas Holding Company (nogaholding), on political risks affecting the oil trading. Mr Al Alawi highlighted the importance of defining and classifying the political risk as well as the significance of integrating this risk into the overall risk strategy of the trading company.
On the afternoon of the second day, Fabio Giovanni (ENEL) provided the audience with a significant presentation on strategic risk management as a supporting framework for the business planning and capital allocation processes.
The senior level speaker faculty at the Summit included eminent personalities such as Federica Strumia-Michelini, Head of Market Risk, Neste Oil; Tim Dowd, Head of Global Energy Risk, Cargill; Kikka Harrison, Risk and Middle Office Manager, Addax Energy SA; David Cáceres Nuñez, Director-Financial Risk, Repsol; Chandra Dev Singh, Head-Derivatives Desk-Risk Management / International Trade, Bharat Petroleum Corporation Limited; Sergey Purisov, Head of Trading, Icon Capital; Bruce Urquhart, Director-Trading and Risk, Irving Oil; Jeroen Van Gerven, Head of Risk Integration, GDF SUEZ Trading; Abdullah Zeren, Market Risk Manager, Aves Ic ve Dis Ticaret A.S.; Alessandro Mauro, Energy Risk Expert; Edward Nicholson, Partner, JLT Specialty Ltd; Stephen Hudson, Senior Consultant – Crisis Management, JLT Specialty Ltd; Elizabeth Driay, Trading and Risk Management Expert; Michele Cornaggia, Head of Risk Management – Oil, Sara S.p.A.; Neil Moyes, Risk, Hedging and Supply Management, Lufthansa.
This meeting was sponsored by the software solutions provider, ComFin; the energy software company, Ignite ETRM; the source of information for businesses and professionals, Thomson Reuters; the multi-market commodity software solution provider, Allegro; the Danish software company, CRISK; and the provider of commodity market data management solutions, GlobalView.
More pictures and information can be found on the website http://www.oiltradingrisks.com. Documentation and presentations from this year are available for purchase for those who were unable to attend.