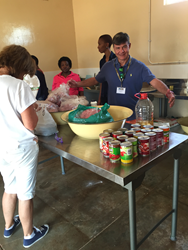 The Group is committed to its Giving Something Back project and over the coming years we are looking to develop the program to include greater involvement throughout member firms. Commented James Hickey CEO
Sun City, South Africa (PRWEB UK) 7 November 2014
During Alliott Group's annual 2014 Worldwide Conference in South Africa, members found time to utilize their skills and man power in assisting and bringing some much needed joy and light relief to some of South Africa's most deprived children at the Tapologo Centre. The community centre is an after school & counselling facility for vulnerable and abused children. Run by an NGO it offers the children who are mainly from child-headed households, much needed support, counselling, after school care and a feeding scheme. Care for HIV + children is paramount where anti-viral medication and meals can be controlled with a specialised clinic available on grounds.
The event was organized by member John Jones in conjunction the Rustenburg Rotary Club of the North West Province, South Africa. Enabling Alliott Group delegates and companions to spend a few hours playing with over 100 children by offering several different activities, such as face painting, football, bubble play, and ball games. The creative members also decorated the walls with bright and lively murals creating a feeling of cheer. The fun was rounded off with a lunch cooked and served by Alliott Group members to all the children.
James Hickey, CEO of Alliott Group commented: "When attending a conference or meeting it is all too easy to just appreciate the finer things in life in terms of staying at good hotels and eating at fine dining restaurants located in the prime locations of the host city. Alliott Group believes that it is important that when we hold a meeting that we do not just focus on business but look to leave a lasting impression on the community and show that people do care and are willing to give something back. The Group is committed to its Giving Something Back project and over the coming years we are looking to develop the program to include greater involvement throughout member firms of Pro Bono work, charitable fundraising and also to become more sustainable in the form of reducing the carbon footprint of the travel that members and staff do"
It was an honor to serve for the morning and we hope that $4000 donation will go a little way secure the centers future.