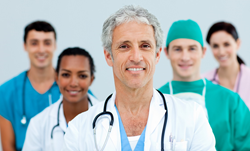 "The U.S. Army Medicine Civilian Corps wishes to give our sincerest thanks to the brave families, veterans, and military personnel who we have the privilege to serve every day."
Fort Sam Houston, Texas (PRWEB) November 11, 2014
November marks a time to give thanks - not only to our Veterans, but also to the committed families of our servicemen and women. The Civilian Corps of the U.S. Army Medical Command (MEDCOM) recognizes the month of November as a time to honor the families, veterans, and Army servicemen and women they have the privilege to serve every day.
"We recognize Veteran's day on November 11th to honor the men and women who are serving and those who have served. Additionally, we observe the month of November as a time to celebrate their families who also sacrifice a great deal supporting the uniformed service member," states Dr. Joseph Harrison, Jr., Chief, Recruitment and Retention, Headquarters U.S. Army Medical Command, Civilian Human Resources.
He continues, "Together, the U.S. Army Medicine Civilian Corps wishes to give our sincerest thanks to the brave families, veterans, and military personnel who we have the privilege to serve every day."
Veteran's day, formally known as Armistice Day, dates back to the end of World War I. It was not officially decreed as a national holiday until 1954 when Dwight D. Eisenhower signed the first Veteran's Day proclamation.
November is also recognized as National Military Family Appreciation Month. This year, President Obama signed a proclamation calling on all Americans to "honor military families through private actions and public service for the tremendous contributions they make in support of our service members and our Nation."
Veteran's Day and Military Family Appreciation Month provide all Americans - civilians and service members - the opportunity to reflect on the sacrifices of our nation's armed forces and their families. As you celebrate Thanksgiving and celebrate all that you're thankful for, remember to give thanks to the military families and veterans who have served and sacrificed.
###
Civilians make up approximately 60% of the total Army Medicine workforce and provide day-to-day care for Army Soldiers, beneficiaries and their families at Army hospitals and clinics worldwide. The Civilian Corps provides rewarding career opportunities for civilian nurses, physicians, surgeons, and more to serve those who serve their country.
Employees are not subject to military requirements, such as enlistment or deployment, and receive excellent benefits, including flexible work schedules, competitive salaries, health insurance and access to state-of-the-art training and equipment. For more information about opportunities with the Civilian Corps, please visit http://www.CivilianMedicalJobs.com.