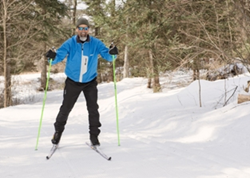 "We are very excited about our accomplishments on the farm and have received overwhelming support from the public. We anticipate that being open this winter will also simulate the local economy and help build a solid foundation for future Nordic seasons."
Franconia, NH (PRWEB) November 10, 2014
Construction of the 23KM classic and skate ski trail system continues and is on schedule. While the construction and other ski related activities are progressing well, the farm has not yet received the legal status required to accept money for season passes and daily tickets. The farm continues to work with the appropriate agencies and expects to achieve this status in 2015.
Ski Hearth Farm has decided to issue complimentary ski tickets to the public until further notice. Owner Davis Mangold states "We are very excited about our accomplishments on the farm and have received overwhelming support from the public. While this may not be the ideal situation, we wanted to open to the public regardless, so all can enjoy our wonderful trails this winter season. We anticipate that being open this winter will also stimulate the local economy and help build a solid foundation for future Nordic seasons."
Though complimentary, tickets and passes will still be required to access the trail system and are available through the Ski Hearth Farm website or on site in the lodge this winter. Merchandise, lessons and rental equipment will still be available for purchase.
Ski Hearth Farm is an historic New England farm located in scenic Sugar Hill NH. With over 640 acres the organic farm produced six acres of vegetables, ten acres of sweet corn and multiple varieties of potatoes during the 2014 growing season.
For updates and parking information find us on the web at skihearthfarm.com and on Facebook.