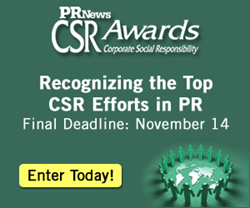 New York, NY (PRWEB) November 12, 2014
The final deadline for PR News' CSR Awards program is this Friday, November 14. This annual competition is the industry's top honor in the corporate social responsibility and green communications space, recognizing outstanding campaigns in Diversity Communications, Green PR, and more. All entries must be submitted by Friday, November 14 at midnight ET.
The Awards program also encompasses the Agency CSR A-List Awards, which honors top firms that have proven track records in developing and managing corporate responsibility programs and social good initiatives for clients. To enter the awards program, visit: http://www.prnewsonline.com/CSR2014.
The winners and honorable mentions will be honored at an awards breakfast in DC in Spring 2015. To view past winners, visit: http://www.prnewsonline.com/CSR2014#winners.
Entry Categories Include:

Agency CSR A-List
Annual Report
Blog
Cause Branding Campaign
Community Affairs
Corporate-Community Partnership
CSR on a Shoestring
Diversity Communications
Employee Relations
Employee Volunteer Program
Environmental Stewardship
Event: CSR/Green Focus
Facebook Communications Campaign
Green PR Campaign
Hall of Fame
Human Rights/Social Justice Communications
Media Relations • Media Relations
Nonprofit/Corporate Partnership
Philanthropy Communications
Pro Bono Campaign
Product Design/Redesign
Recycling Program
Social Good
Social Media Campaign
Twitter Communications
Stakeholder Engagement
Supplier/Vendor Partner of the Year
Sustainability/CSR Report
Video Initiative
Volunteer Program
Workplace Innovation
To be eligible, the site, program or campaign must have taken place (either in part or full) between October 2013 and October 2014. Some of the work must have occurred during this time, but it's not necessary for it to be completed during the eligibility period. The campaign/program can still be in progress in 2014 and beyond.
For any questions regarding PR News' CSR Awards, contact Rachel Scharmann at rscharmann[at]accessintel[dot]com.
###