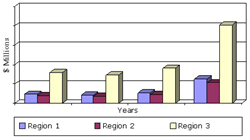 Global Market for Nanotechnology-Enabled Printing Technology to Reach $31.8 Billion by 2018
Wellesley, Mass. (PRWEB) November 12, 2014
BCC Research (http://www.bccresearch.com) reveals in its new report, Nanotechnology in Printing: Global Markets, the global market for nanotechnology-enabled printing technology is expected to grow at a projected compound annual growth rate (CAGR) of 17.7% over the next five years to total $31.8 billion by 2018. The Asia-Pacific region is the largest buyer of printing technologies and will retain growth through the forecast period with 17.3% CAGR and reach revenues of $20.2 billion.
2012 witnessed many new developments in nanotechnology-enabled products and systems, such as the inkjet printing and ink cartridges. These were followed by nanomaterial inks such as coated inks, metal oxide inks and inks with same size particles and flexes. BCC Research predicts that by 2015 there will be a noticeable development in the commercial market. Printed electronics, RFIDs, sensors and taggants for smart packaging as well as photovoltaic and solar cells, and security printing are major industries that will benefit from these upcoming innovations.
In terms of region, growth in Asia-Pacific will be steady through the forecast period due to major business requirements in printed electronics, printing of sensors, RFIDs and photovoltaics. On the other end, the U.K., Germany and Israel will be the leading European countries developing printed electronics, sensors and RFID tags for smart packaging.
"With business potential of billions of dollars, nanotechnology in the printing industry is growing across the globe," says BCC Research analyst Anand Gijare. "Nanotechnology has brought new opportunities for printing technologists and manufacturers of electronic components and inks."
Nanotechnology-enabled printing has excited industries with its astonishing potential to introduce next generation products. These industries include smart television, mobile gadgets, industries that manufacture and use flexible solar and photovoltaic cells, bio–technology, medicine and diagnostics, military and government agencies, and institutions designing human genes and implants.
Nanotechnology in Printing: Global Markets reviews the semiconductor industry and developments based on Moore's law. The study is focused on nanomaterials that are used in printing, printing techniques, such as nanolithography and inkjet printing, and key applications that benefit from nanotechnology enabled printing. Forecast data is provided for 2018.
Editors and reporters who wish to speak with the analyst should contact Steven Cumming at steven.cumming(at)bccresearch(dot)com.
About BCC Research
BCC Research publishes market research reports that make organizations worldwide more profitable with intelligence that drives smart business decisions. These reports cover today's major industrial and technology sectors, including emerging markets. For more than 40 years, we have helped customers identify new market opportunities with accurate and reliable data and insight, including market sizing, forecasting, industry overviews, and identification of significant trends and key competitors. We partner with analysts who are experts in specific areas of industry and technology, providing unbiased measurements and assessments of global markets. Our clients include the top companies in industries around the world as well as universities, business schools, start-ups, consulting firms and investment companies. Visit our website at http://www.bccresearch.com. Contact us: (+1) 781-489-7301 (U.S. Eastern Time), or email information(at)bccresearch(dot)com.
Data and analysis extracted from this press release must be accompanied by a statement identifying BCC Research LLC, 49-2 Walnut Park, Wellesley, MA 02481, Telephone: (+1) 781-489-7301; Email: editor@bccresearch.com as the source and publisher. Thank you.