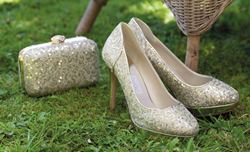 A pair of dress shoes designed by a bridal brand is more likely to be designed with ultimate comfort in mind and women they are getting more for their money in terms of quality, design and unique touches which they will not find on the High Street
(PRWEB UK) 14 November 2014
The launch of the latest designer party shoes in metallics and subtle nude shades such as champagne and blush have arrived in stock just in time for the Christmas and Party season. A Christmas party or New Year's occasion deserves special accessories and a pair of quality womens dress shoes can make or break a beautiful dress! Bridal footwear retailers Rainbow Club and Pink Paradox have expanded their specialist bridal shoes ranges and introduced a variety of fabrics and colours so that the collection is no longer just for brides. Footwear designers recognise that the modern woman demands high quality shoes and handbags for that extra special occasion whether it's a day at the races or a formal evening event.
Rainbow Club has just launched four new shoe styles designed to sparkle from every angle and the unique sequin mesh fabric finish is a shade between gold and silver – perfect as either silver or gold party shoes. With a matching sequin box clutch to co-ordinate the look to perfection – it is easy to see why such beautifully crafted footwear from such an established brand would be the first choice for an extra special touch! Renowned wedding shoe designer Benjamin Adams has also introduced four new styles aimed at the luxury evening footwear market. Benjamin's use of gold leather adds a vintage touch to dance shoe shapes with a T-Bar finish and the textured gold glitter leather look is reminiscent of iconic styles by Jimmy Choo providing women with a more affordable luxury footwear option.
"Bridal shoe designers are experimenting more and more with different fabrics and colours which make the shoes more wearable and perfect as formal dress shoes," says Amy Karim, owner of Crystal Bridal Accessories. "Luxury gold and silver shoes are seen as an investment compared to a more budget level, High Street brand pair of shoes. Our customers usually think carefully about how much wear they will get from a pair of shoes if they are paying between £50-£100 for example. A pair of dress shoes designed by a bridal brand is more likely to be designed with ultimate comfort in mind and women can be sure that they are getting more for their money in terms of quality, design and unique touches which they will not find on the High Street!" Adds Amy.
"For brides, the party and evening styles become an excellent opportunity for them to wear a unique pair of shoes on the wedding day and then wear them again and again after the big day for parties, evenings at Christmas or special occasions!"
Brides can shop the Evening Shoes collection online at the Crystal Bridal Accessories website.
END
About Crystal Bridal
Crystal Bridal Accessories is an innovative business specialising in accessories for weddings, parties, balls, proms and special occasions. The online boutique offers the entire range of wedding shoes by Charlotte Mills, Paradox London, Benjamin Adams, Rainbow Club, Harriet Wilde and Love Art Wear Art and quality wedding hair accessories by Louis Mariette, Halo and Co, Ivory and Co, and other brands made with genuine Austrian or Swarovski crystals. Crystal Bridal Accessories also stock a range of wedding gloves, bridal sashes and Lily Bella birdcage veils. Crystal Bridal Accessories is for the bride, bridesmaids, mother-of-the bride and for anyone who loves shoes, jewellery and handbags.
Crystal Bridal Accessories is highly commended by Wedding Ideas Awards 2012 for contribution to Bridal Accessories and Nominee for Perfect Wedding Awards 2013 and 2014 and Wedding Ideas Awards 2013 and 2014. The company was also a finalist in the Wedding Industry Awards 2013.
Brides can shop online or visit the showroom in Meadowhall, Sheffield serving brides across Yorkshire. For further information or to request high resolution product images, please email us.