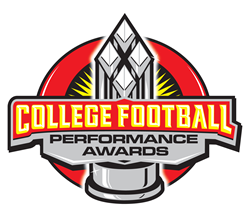 Charleston, SC (PRWEB) November 13, 2014
College Football Performance Awards (CFPA) announces the 2014 CFPA FCS National Freshman Performer of the Year Watch List. The initial watch list includes thirty players from the Football Championship Subdivision. All players are eligible for awards at their respective positions; players are not preemptively eliminated from consideration.
The list includes sixteen running backs, ten wide receivers, and four quarterbacks. Previous winners of the award include: Drew Reed (Lafayette), Sawyer Kollmorgen (Northern Iowa), John Robertson (Villanova), Taylor Heinicke (Old Dominion), and DeNarius McGhee (Montana State).
2014 CFPA FCS National Freshman Performer of the Year Watch List:
Octayvius Miles (WR), Alabama A&M
Josh Gontarek (WR), Albany
Otis Gerron (RB), Austin Peay
Larry Brihm (QB), Bethune-Cookman
Sam Schrader (RB), Butler
Cam Jackson (RB), The Citadel
Osharmar Abercrombie (RB), Coastal Carolina
Jeffrey Keil (RB), Davidson
Nic Sblendorio (WR), Eastern Washington
Brandon Norwood (WR), Florida A&M
Chase Edmonds (RB), Fordham
Semar Smith (RB), Harvard
Troy Pelletier (WR), Lehigh
Ryan Ross (RB), McNeese State
Chandler Curtis (WR), Mercer
Alex Lakes (RB), Mercer
Calan Crowder (RB), Missouri State
Donald Goodrich (RB), New Hampshire
Marquell Cartwright (RB), North Carolina A&T
RJ Urzendowski (WR), North Dakota State
Rameses Owens (RB), Robert Morris
Marcus Bagley (RB), Saint Francis U
Yedidiah Louis (WR), Sam Houston State
Jake Wieneke (WR), South Dakota State
Cameron Walter (RB), Southern Illinois
Austin Howard (QB), Southern University
Brock McCoin (WR), Tennessee Tech
Al Cobb (QB), VMI
Detrez Newsome (RB), Western Carolina
Hunter Wells (QB), Youngstown State
About College Football Performance Awards:
The goal of College Football Performance Awards is to provide the most scientifically rigorous conferments in college football. Recipients are selected exclusively based upon objective scientific rankings of the extent to which individual players increase the overall effectiveness of their teams.
As prominent scholars from a wide variety of disciplines note, CFPA eliminates the politics and biases that vitiate balloting-based awards. Furthermore, CFPA has received praise from both Republican and Democratic White House officials for promoting objectivity and fairness in college football.
CFPA is now in its seventh season of player and team performance recognition. Twenty-eight CFPA winners have been first-round NFL Draft selections.