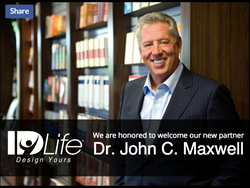 "I'm so excited about the partnership that Logan and I have put together. That I come alongside with the John Maxwell Company and can really help develop great leaders for your tremendous organization." Dr. John C. Maxwell
(PRWEB) November 12, 2014
IDLife CEO and founder Logan Stout announced that Dr. John Maxwell and IDLife, LLC entered into a special partnership. Dr. Maxwell has been a mentor to IDLife CEO, Logan Stout for many years and the relationship between the two dynamic leaders has evolved into a new collaborative opportunity.
IDLife, LLC is a nutritional supplement manufacturer in Frisco, Texas who offers a unique approach to personalized wellness with a custom online HIPPAA compliant vitamin assessment. IDLife also provides comprehensive sports nutrition products.
Dr. John C. Maxwell is an internationally renowned leadership expert, coach, and author who has sold over 21 million books. John's authority on Leadership has landed him the #1 spot in INC Magazine's Top 50 Leadership and Management Experts. Dr. Maxwell founded EQUIP and the John Maxwell Company, organizations that have trained more than 5 million leaders in 196 countries.
While IDLife, LLC has aligned with great partners and investors like Troy Aikman, Billionaire Darwin Deason, Len Critcher, Chris Camillo and other fitness, nutrition and wellness thought leaders, John Maxwell will be investing his time and expertise in leadership to benefit IDLife. This strategic partnership will compliment IDLife and its mission to help people reach their God given potential in life.
"It's such an honor to partner with John Maxwell. The impact he and the John Maxwell Team will bring to the IDLife family will truly change lives in a way we can't even put into words. Most importantly, the partnership with IDLife and the John Maxwell team will truly EQUIP the world in ways everyone will be proud of!" – Logan Stout, CEO of IDLife
"I'm so excited about the partnership that Logan and I have put together. That I come alongside with the John Maxwell Company and can really help develop great leaders for your tremendous organization. I have such respect for Logan and Haley and Love them very much." – Dr. John C. Maxwell, Author & Leadership Expert
To kickoff this unique partnership, IDLife announced that Dr. John C. Maxwell will be participating in the exclusive IDLife Golf Tournament on Thursday, April 9, 2015 followed by speaking engagement and leadership training for participants of IDRevolution (the IDLife biannual nutritional and health and wellness convention and event) in Ft. Worth.
----------------------------------------------------------------------------------------------------------------------------------------------------------------
About IDLife
IDLife, LLC s a Frisco Texas based company that provides individualized nutrition, starting with a HIPAA compliant online assessment. Take the guesswork out of your daily nutritional supplements. You are unique, and your nutrition should be too.
For general information please call IDLife at: (972) 987-4430 or visit us online at http://www.IDLife.com For media inquiries please contact Lori A. Reese, Director of Marketing: Lori.Reese(at)IDLife(dot)com
Corporate Address: 10825 John W. Elliott Drive, Suite 100 Frisco Texas, 75034.