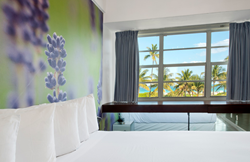 Artists who enter the competition enjoy a $10 bar credit and a 10% discount on stays at the hotel.
South Beach, Florida (PRWEB) November 19, 2014
The Penguin Hotel, located in the Art Deco District of South Beach, invites emerging and accomplished artists, hotel guests, South Beach fans, and creative minds, in all areas of the world to submit works of their own to The Big Picture, Interiors at The Penguin Hotel, a juried art contest. The contest provides artists the opportunity to utilize their art to transform each one of the hotel's 43 rooms. Work from winning artists will be printed on canvas to completely cover a wall in each room. Multiple artists will win and rooms will feature different art. Selected artists win $500 and a two-night stay at The Penguin Hotel. Each artist who enters the competition, which has a registration fee of $20, will receive a $10 bar credit and a 10% discount on stays at the hotel. To enter the contest and read guidelines, visit http://www.juriedartservices.com.
Between now and January 30, 2015, artists may submit up to four digital images. Judges will select 10 finalists whose art will be displayed on the Penguin Hotel's Facebook page. Online public voting will take place February 3, 2015. The jurors will select the final winners on February 6, 2015. Winning art will be installed in the hotel rooms starting in the Spring of 2015.
Nestled on Ocean Drive, The Penguin Hotel faces the famous and beautiful Miami Beach with its white sand beach and blue Atlantic Ocean and Lummus Park with tall, swaying coconut trees and verdant green grass. Each room at Penguin Hotel has a wall completely covered in a wall-paper like canvas with an image. The hotel will be replacing the wall canvas in each room and created the art contest as a way to involve the community in finding new art to feature on the canvas. For visuals of the rooms, please visit http://www.penguinsouthbeach.com/ and https://www.facebook.com/penguinhotel.
During Art Basel Miami Beach (Dec 4-7, 2014) week, artists can visit a room at the Penguin Hotel between 12 noon until 4pm (register at Front Desk). Artists who visit the hotel between the contest start and end date (Nov 1- Jan 30) can redeem a $10 bar credit (must be 21 years old). Proof of registration is required to receive the bar credit. All artists who enter will also receive a 10% discount on hotel stays at The Penguin valid November 1, 2014 – Nov 1, 2015. The 10% discount (valid on direct bookings online only), can be shared with friends and family and easily redeemed by using the code "ART" when booking online at http://www.penguinsouthbeach.com/. The booking window is now until January 31, 2015 for travel anytime between now and July 31, 2015.
The Penguin Hotel, an art deco boutique hotel built in 1948, is located on the world-famous Ocean Drive. The three-story hotel offers 43 rooms, eight with direct ocean views. Rooms offer flat screen TV's, WIFI and an option, at an extra cost, to have the canvas wall customized with any image from a family portrait to a company logo. The Purple Penguin Cafe offers breakfast, lunch, dinner and the ideal location for people watching and enjoying ocean breezes. For more information visit http://penguinhotel.com/ or call 800-235-3296.