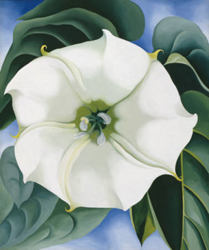 "All of the income from this sale will be used for future acquisitions to support the growth of our dynamic, vibrant O'Keeffe collection." --Robert A. Kret, Director, Georgia O'Keeffe Museum
New York, New York (PRWEB) November 13, 2014
Sotheby's autumn auction of American Art will be held in New York on 20 November 2014. The 70 works in the sale will be on public view in Sotheby's York Avenue galleries beginning this Saturday, 15 November.
Sotheby's is honored to offer one of the most iconic works by Georgia O'Keeffe ever to appear at auction. Jimson Weed/White Flower No. 1 (right, est. $10/15 million) is a well-known example of O'Keeffe's celebrated flower paintings, which in turn stand among the most recognizable images in both art history and popular culture. The painting is one of three works by the American artist that are on offer from the Georgia O'Keeffe Museum in Santa Fe, New Mexico, sold to benefit the Museum's Acquisitions Fund, alongside On the Old Santa Fe Road, (est. $2/3 million), and Untitled (Skunk Cabbage), (est. $500/750,000).
"This deaccession is part of the maturation of the Georgia O'Keeffe institution and aligns with our future collecting strategy, coupled with planned giving and donations," said Robert A. Kret, Director of the Georgia O'Keeffe Museum. "This has been a thoughtful process that has unfolded over the course of more than a year, and the deaccession is fully supported by the donor of the three works and was unanimously approved by the Georgia O'Keeffe Museum board of directors. All of the income from this sale will be used for future acquisitions to support the growth of our dynamic, vibrant O'Keeffe collection."
Cody Hartley, Director of Curatorial Affairs at the Georgia O'Keeffe Museum, said: "Letting go of these pieces is a sacrifice, and we do not take this decision lightly. We are fortunate to have equally strong examples of similar subjects, including the masterful Bella Donna, which bears a close resemblance to Jimson Weed. Through this sale we have the opportunity to substantially fund an acquisitions endowment that will allow us to be competitive when pursuing iconic O'Keeffe masterworks. This sale will provide funding to strengthen and refine our collection, allowing us to represent the full breadth of Georgia O'Keeffe's artistic accomplishments."
Elizabeth Goldberg, Head of Sotheby's American Art Department, commented: "It is a great privilege to offer the remarkable Jimson Weed/White Flower No. 1 on behalf of the Georgia O'Keeffe Museum. While the artist's celebrated flower paintings make up a relatively small portion of her prolific career, they are firmly planted in the popular consciousness. Among this series, Jimson Weed/White Flower No. 1 is a particularly stunning and familiar example, painted in a large scale that distinguishes it within her oeuvre. O'Keeffe worked throughout her life to express her unique, uncompromising and crystal-clear vision, and today she is one of few distinctly American artists with truly international appeal."
Jimson Weed/White Flower No. 1 was owned originally by the artist's sister Anita O'Keeffe Young, whose estate was sold at Sotheby's in December 1987. It was subsequently included in two private collections before being donated to the Georgia O'Keeffe Museum by The Burnett Foundation in 1996. The work hung in the White House for 6 years at the request of First Lady Laura Bush, and has been featured in nearly every major retrospective on the artist, including those at the Museum of Modern Art in New York and the Whitney Museum of American Art.
O'Keeffe first saw Jimson weed growing in northern New Mexico – a setting that would come to define much of her career – and painted the present work in 1932. At a significant 48 by 40 inches, Jimson Weed/White Flower No. 1 is one of the rare instances early in her career that O'Keeffe chose a canvas size noticeably larger than her usual format. The same year, the artist had started plans for a mural construction for Radio City Music Hall, which was then under construction in Rockefeller Center. This may have led her to experiment with a larger format in her paintings.
Also on offer from the Museum's collection and benefiting the Acquisitions Fund is On the Old Santa Fe Road (left, est. $2/3 million), which attests to the deep inspiration O'Keeffe gleaned from the stark simplicity of the desert landscape of New Mexico – the place she made her permanent home in 1949. O'Keeffe's depiction captures the rugged geological forms and brilliant colors of the American Southwest. While On the Old Santa Fe Road emphasizes the incredible vastness of this dramatic environment, Untitled (Skunk Cabbage) (right), made prior to her first visit to New Mexico in 1929, focuses on the smaller form of this distinctive plant, one of the first to bloom in the spring (est. $500/750,000).
Separate release available with more details about the Autumn Auction of American Art.
ABOUT THE GEORGIA O'KEEFFE MUSEUM
To inspire all current and future generations, the Georgia O'Keeffe Museum preserves, presents and advances the artistic legacy of Georgia O'Keeffe and modernism through innovative public engagement, education, and research. Opened in Santa Fe, New Mexico in 1997, the Museum counts O'Keeffe's two New Mexico homes as part of its extended collection. The Museum's collections, exhibitions, research center, publications and educational programs contribute to scholarly discourse and serve a diverse audience. For more information please visit ww.okeeffemuseum.org.
FOR MORE NEWS FROM SOTHEBY'S
Visit: http://www.sothebys.com/en/inside/services/press/news/news.html
Follow: http://www.twitter.com/sothebys & http://www.weibo.com/sothebyshongkong & WeChat (ID: sothebyshongkong)
Join: http://www.facebook.com/sothebys
Watch: http://www.youtube.com/sothebys
Sotheby's has been uniting collectors with world-class works of art since 1744. Sotheby's became the first international auction house when it expanded from London to New York (1955), the first to conduct sales in Hong Kong (1973), India (1992) and France (2001), and the first international fine art auction house in China (2012). Today, Sotheby's presents auctions in 10 different salesrooms, including New York, London, Hong Kong and Paris, and Sotheby's BidNow program allows visitors to view all auctions live online and place bids from anywhere in the world. Sotheby's offers collectors the resources of Sotheby's Financial Services, the world's only full-service art financing company, as well as private sale opportunities in more than 70 categories, including S|2, the gallery arm of Sotheby's Contemporary Art department, and two retail businesses, Sotheby's Diamonds and Sotheby's Wine. Sotheby's has a global network of 90 offices in 40 countries and is the oldest company listed on the New York Stock Exchange (BID).
*Estimates do not include buyer's premium and prices achieved include the hammer price plus buyer's premium.
Images are available upon request
All catalogues are available online at http://www.sothebys.com or through Sotheby's Catalogue iPad App.