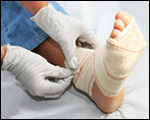 For diabetics, an infected wound is a real emergency because healing is compromised as a result of the disease itself.
Tarrytown, NY (PRWEB) November 14, 2014
The Life Support Technologies group (LST) works with diabetics in its northeastern U.S. hospital-based Wound Care and Hyperbaric Medicine units to cure non-healing wounds and prevent amputations. Severe cold weather poses a unique challenge to those living with diabetes; these seven tips, if followed, will help prevent diabetics from having their feet amputated.
Diabetes causes many changes to the body, including neuropathy (lack of feeling) of the lower extremities. A diabetic's feet are especially prone to damage resulting from neuropathy. Special care must be taken to preserve the skin's integrity. A wound may not become apparent until it has expanded and become infected. For diabetics, an infected wound is a real emergency because healing is compromised as a result of the disease itself. Such cases frequently require intense wound care treatments that may last many months. Sometimes, treatment does not heal the wound completely or cure the infection. Amputation of the foot or part of the leg then becomes the only option. Clearly, the best course of action is to avoid any breakdown of the skin's integrity; this requires diligent, daily effort.
Here are 7 cold-weather tips for diabetics, from Edward Golembe, M.D., FACCWS, UHM, Co-Clinical Director, Life Support Technologies group, Tarrytown, NY, and Director: Skin Integrity Service, Westchester Medical Center, Valhalla, NY:
1. Avoid cotton socks. Once they get moist, they stay moist. BETTER: socks made of wool, or of better quality synthetic materials such as those in hiking socks, will wick moisture away from the foot and prevent the skin from breaking down and a wound developing.
2. Check your shoes or boots before you put your foot inside: make sure there is nothing inside the footwear. Turn the footwear upside-down, shake it to see if anything falls out, and then use your hand to feel inside the footwear. You do not want anything inside the footwear to create a wound.
3. Avoid prolonged exposure to cold so that you avoid frostbite.
4. NEVER soak a diabetic foot. Soaking breaks down the skin barrier and will lead to a wound.
5. Completely dry your feet after showering. This will help to preserve your foot's skin integrity.
6. Moisturize your feet each night to help prevent them from drying out and the skin cracking.
7. Examine your feet every day, especially the plantar (the foot's bottom surface) for any abrasions, wounds, skin dryness, or signs of infection. If you cannot do the examination yourself, ask someone to help you. Avoid amputation: Promptly address any issues with your feet so that you keep them as long as possible.
About the Life Support Technologies Group (LST)
The Life Support Technologies Group (LST) is a Tarrytown, NY-based medical and life-support engineering company specializing in Advanced Wound Care and Hyperbaric Medicine Services to hospitals in the NY, NJ, CT region. LST has been in business for 20 years and currently provides services to 9 hospitals.
Glenn Butler, CEO
Life Support Technologies Group
(914) 333-8412
http://www.lifesupport-USA.com