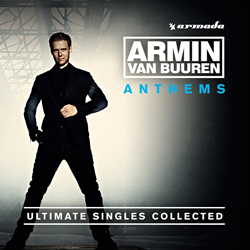 In an era where trends come and go, Armin van Buuren's appeal has withstood the test of time. As a producer and DJ, Armin van Buuren has achieved unrivaled success by tirelessly championing the music he loves.
New York, NY (PRWEB) November 13, 2014
Armin van Buuren leads a golden life. His GRAMMY® nominated single, "This Is What It Feels Like," featuring Trevor Guthrie, was just certified a seven-time platinum record in the Netherlands after being certified gold in the U.S. Today, Armin is releasing brand-new bonus content in support of his latest album, 'Armin Anthems: Ultimate Singles Collected' (Armada Music/Ultra Music). While tens-of-thousands of votes poured in for anthems by Armin van Buuren selected as fan favorites, only 20 made it onto the album.
Until now.
Responding to a tremendous number of requests to publish the full voting results, Armin revealed the "Top 100" fan-selected tracks during this week's 'A State Of Trance' (ASOT) radio show. The ASOT radio show draws more than 20 million listeners from around the world each week and is heard on SiriusXM Radio in the U.S.
Find the full list of Armin Anthems at: http://arminanthems.arminvanbuuren.com/.
Purchase the 'Armin Anthems' album on iTunes: https://itunes.apple.com/us/album/armin-anthems-ultimate-singles/id929359038.
Watch the 'Armin Anthems' video mega-mix: http://youtu.be/hZcPSow0Aus.
Listen to 'A State Of Trance' Radio on Spotify: http://spoti.fi/ifi6bs.
Catch Armin van Buuren on his next North American tour:
December 26th - BC Place - Vancouver, Canada
December 27th - "Lights All Night" at Dallas Convention Center - Dallas, Texas
December 28th - BMO Center - Calgary, Canada
December 29th - Pier 94 - New York City, New York
December 30th - Colorado Convention Center - Denver, Colorado
December 31st - "PopNYE" at Oracle Arena - Oakland, California
For more information on ARMIN VAN BUUREN (U.S./North America), contact EMILY TAN Media Relations, +1(917) 318-3758, EmilyEmilyTan(at)aol(dot)com. Follow EMILY TAN Media Relations on Twitter @EmilyEmilyTan.
# # #