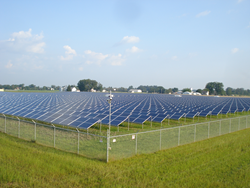 Solar continues to offer compelling investment opportunities, and this project is another example.
San Diego, CA (PRWEB) November 13, 2014
Equal Earth, a diversified renewable company, today announced that it signed an exclusive agreement to acquire a 5 MW solar photovoltaic farm in Ohio. The project has a long-term PPA with a municipal utility and the deal is expected to close before year-end.
The transaction is the latest in a series of recent acquisitions and the deal augments Equal Earth's existing portfolio of renewable energy assets. The deal is part of the firm's broader growth strategy involving acquisition of long-term revenue-generating projects with low operational costs to generate predictable future cash flows and attractive after-tax returns.
"Solar continues to offer compelling investment opportunities and this project is another example," said Equal Earth Chairman, President and CEO, Andrew Duggan. "We view this transaction as a long-term win for our investors and we expect it to deliver the types of returns renewable energy investors are seeking," added Duggan.
Earlier this month, Equal Earth completed its acquisition of Hawaii Retail Services, a transaction that will deliver cost savings to customers through vertical integration.
Based out of San Diego, Equal Earth is a diversified renewable energy company with a portfolio of assets providing customers lower-cost, environmentally conscious energy solutions. The company offers commercial and residential customers simple financing solutions, helping them to significantly reduce their utility bills. By developing and financing projects powered by renewable energy sources such as wind and power, Equal Earth is helping to change how we power the world. For more information, visit http://www.equalearthcorp.com.