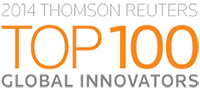 BUENA PARK, Calif. (PRWEB) November 14, 2014
Yamaha Corporation has recently been named a Thomson Reuters 2014 Top 100 Global Innovator.
Yamaha was named based on the high appraisal of its intellectual property activities in Japan and overseas. This is the second time for Yamaha to be selected, after the first time in 2011.
Going forward, Yamaha will continue its intellectual property activities by further accumulating its stock of intellectual assets, including patents. At the same time, Yamaha is committed to respecting the intellectual property of others.
Explanation of the Top 100 Global Innovator List:
This year marks the fourth time for Thomson Reuters to announce its Top 100 Global Innovator list. Companies and institutions named among the top 100 global innovators are selected for the excellence of their intellectual property activities based on analyses of trends in these activities in data gathered by Thomson Reuters, one of the world's leading information service companies. The four evaluation criteria for selection are the "number of patents," "patent application success ratio," "securing of global patent rights," and "influence of patents as indicated by citations in other documents."
Note: For further information, please refer to:
http://thomsonreuters.com/press-releases/112014/2014-top-100-innovators
Reasons for Yamaha's Selection (From Thomson Reuters):
Among the four evaluation criteria established for the Top 100 Global Innovator list, Yamaha ranked high in terms of the number of patents and the global scope of its intellectual property protection initiatives. Also, Yamaha's score for its successful application to grant ratio rose substantially over the previous year. These factors led to Yamaha's selection this year.
Comment from Susumu Osita, General Manager, Intellectual Property Division:
Yamaha's selection this year by Thomson Reuters indicates that its patent activities, based on collaboration of its R&D and business divisions, have been highly evaluated. We would like to express our deepest thanks for this recognition. Yamaha's selection this year is an indication of the favorable appraisal of the number of patents registered and the securing of global patent rights. Looking ahead, Yamaha will work to protect its businesses by building its portfolio of patents.
*Product names, names of companies, etc. mentioned in the text of this news release are trademarks or registered trademarks of Yamaha Corporation or other respective companies
For further information, please contact:
Yamaha Corporation
Corporate Communications Division, Public Relations Group
pr-contacts(at)gmx(dot)yamaha(dot)com