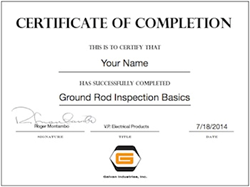 HARRISBURG, NC (PRWEB) November 18, 2014
Galvan Electrical Products has developed online test modules for two of the company's "Safe Grounding Videos" to provide more education on key issues which influence good grounding practices.
Galvan's six "Safe Grounding Videos" have been viewed more than 38,000 times. Each short video contains several important points related to code compliance, ground rod specifications, factors affecting ground rod life or ground rod installation and inspection.
Test and certification modules are now available on the website, http://www.galvanelectrical.com, for two of the videos: Go for Listed Ground Rods (Ground Rod Inspection Basics) and The Facts of Life (Factors in Ground Rod Selection).
In the test modules, viewers are given the opportunity to watch the videos again and to take a short test on the information provided. Those passing the test will earn a certificate. Explanations are provided to help drive home each correct answer.
Additional test modules are now in development.
About Galvan
Galvan Industries, Inc. has been a trusted supplier to the electrical, electronic and utility industries for more than five decades. Galvan electrical products are used in residential, commercial and industrial applications, including construction, cable TV, lightning protection, power transmission and telecommunications. They are available from leading electrical wholesalers and distributors throughout the United States.
For more information, call 1-800-277-5678; fax 704-455-5215; email sales(at)galvanelectrical(dot)com or visit Galvan on the Web at http://www.galvanelectrical.com.