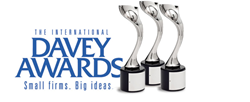 Grand Junction, CO (PRWEB) November 17, 2014
Cranium 360 recently received a Silver Davey award for its design work on the 2014 Community Hospital Annual Gala invitations. The gala's theme, "An Evening in Wonderland," provided the subject matter for the Grand Junction marketing agency's artwork.
All illustrations in the invitations were hand-drawn scenes of young Alice and her adventures in Wonderland, complete with high gloss and even metallic foil to strengthen the story's ambience. The competition, which accepts entries from all over the world, touts five major mediums: web, video, mobile, design, and advertising. Each has several subcategories and areas of work. Cranium 360 won its Davey in Design for the promotional category Invitations/Cards.
The annual International Davey Awards competition celebrates small companies that produce great work without the large budgets of other, multi-million dollar agencies. The Academy of Interactive and Visual Arts sanctions the "Daveys," so despite the competition being designated for smaller firms, leading industry professionals judge the quality of the work to determine which companies receive awards.
About Cranium 360: Cranium 360 is an award-winning, full-service marketing agency dedicated to providing clients with strategic solutions. The company commits itself to telling each business' story and delivering what it deserves: results. Cranium 360 partners with the United Way of Mesa County and other area nonprofits to support western Colorado's growing business culture and its emphasis on community involvement.