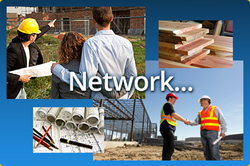 UPro is scheduled to be released in early December.
Bayville NJ (PRWEB) November 17, 2014
From the Egyptian pyramids and the Roman Coliseum of the ancients, to the Panama Canal, the Golden Gate Bridge, the new World Trade Center, the roads we travel, and the roofs over our heads, construction, engineering and design advances us all. Today, it takes more than bricks and mortar for contractors to build a business; construction business management calls for a place in the clouds. In response, UBuildNet.com is preparing to release its innovative UPro product later this fall as an affordable, easy-to-use cloud-based construction management solution designed to meet the 21st century needs of any size construction company. UPro will be integrated with the existing social marketing and networking features of UBuildNet to move towards the goal of providing a single, integrated source for navigating the three critical components of construction business operations: contact and relationship management (currently available), project management and financial management (coming soon).
Contact Management: UBuildNet.com includes a powerful contractor search function with customizable parameters according to types of services provided and regions served. It also lets contractors connect and communicate with businesses and homeowners, promote their business, and manage their contacts. Comments founder John Clark, "The social networking and marketing features of UBuildNet roll the most useful features of Facebook, LinkedIn, Instagram, and other social sites all into one, and customizes them expressly for the construction industry."
Project Management: UBuildNet.com's next release will add a dashboard for managing estimates, proposals, work orders, purchase orders, and more, with easy-to-use templates that can be customized with the contractor's logo and branding. "We wanted UPro to be user-friendly, comprehensive, and affordable," says Clark. He adds, "There are many software platforms available to the builder; however they are often overly complex and can be quite costly. UPro is designed to work for any contractor at a price that will fit even a tight budget."
Financial Management: UPro offers the user basic financial management tools, such as tracking costs by project or globally, invoicing, and a host of exporting and search features. After UPro is implemented, UBuildNet will prepare to launch its next planned enhancement, a fully integrated accounting module that will seamlessly extract information from UPro into customizable financial records and reports for budgeting, project cost and analysis, tax management, as well as integrating with the most popular business accounting platforms.
A contractor might go through the day managing business operations using a PC or laptop at the office, a smart phone or tablet on the road, and any one of these to catch up on a few things from home. As a cloud-based multifunction construction solution, UBuildNet can be accessed from any internet-connected device, putting administrative management wherever the contractor is. UBuildNet eliminates the need to switch between different software apps to manage different aspects of business. This eliminates redundant, error-prone inefficiencies associated with trying to keep files and records stored in different databases accurately synchronized and backed up. UBuildNet creates seamless, effortless synchronization automatically, and as a cloud-based system, data backup is simple, fast, reliable, and completely automatic.
The UBuildNet team is scheduling UPro for an early December release with a 90 day free trial offer. Subsequent pricing will feature a low $10/month rate, with none of the multi-licensing fees or per-project fees associated with some of the other construction software solutions available. UBuildNet: We work where you work!