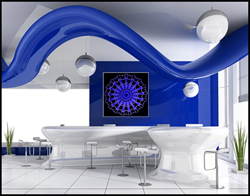 I am excited to be selected as the glass artist to transform Michael's Cosmos images onto glass. Peter Edward Jurgens, Glass Artist & President of Krystal Glass Company.
Pompano Beach, Florida (PRWEB) December 02, 2014
Krystal Glass Company is pleased to announce its collaboration with British abstract art photographer Michael Banks. A select group of his dynamic photographic artwork is available for the first time as unique carved and illuminated etched glass, transformed by 30-year glass artist Peter Edward Jurgens.
Michael's innovative photographic artwork combined with the elements of light and color in the carved and illuminated etched glass sculptures are perfect for making any interior or protected exterior location extraordinary. The art glass pieces are especially well suited for high visibility Hospitality areas such as receptions, corridors, restaurants, and bars as well as Leisure spaces such as casinos and nightclubs. This new form of artwork is also very relevant for cruise ships and yachts. The art glass and LED lights are shipped together as one easy-to-hang piece.
The transformed artwork is a LED carved and etched glass sculpture that displays an individual constant color or slowly fades through a rotation of eight colors becoming a stunning kinetic work of art, rich with visual impact. The images being offered are from Michael's "Cosmos" series recreated as carved and illuminated etched glass sculptures by Peter Edward.
British photo-artist Michael Banks is widely credited with creating some of the most exciting and unique art in today's contemporary art scene. His highly original abstract photo-art has led to collaborations with international architects, interior designers, galleries, and now with glass artist Peter Edward. Michael's art is frequently specified for high-profile international hospitality, corporate and private interiors. His art has been featured extensively in the international art & design press.
Over the course of a long and successful career, his client list has developed into a "who's who" of publically quoted corporations and global hotel chains spanning the UK, Europe, USA, the Middle and Far East, as well as a select group of internationally recognized private collectors. Michael is based in Trieste, Italy.
Technical specifications and pricing can be found on the Krystal Glass Company website.
Commissions can be ordered through either Michael Banks Art or Krystal Glass Company.