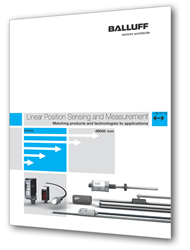 Florence, KY (PRWEB) November 18, 2014
Balluff, a leading global sensor specialist known for their comprehensive, innovative, and reliable products, just released its new Linear Position Sensing and Measurement Catalog, containing their complete line of linear position sensors, encoders, and distance sensors, along with supporting accessories.
Balluff position measurement sensors offer efficient individual solutions with diverse operating principles for distances from 1 µm to 48 m and resolutions from 1 to 100 μm. From ultra-fine position detection to long distance measurement, simply pick the sensor that's right for your application.
Robust industrial Balluff position measurement technology is accurate, reliable, non-contact, and wear-free. Balluff position measurement sensors allow you to increase process efficiency and improve your machine's performance.
Balluff offers a comprehensive portfolio of position measuring sensors and this new catalog highlights their full product offering with descriptions, specifications, applications, drawings, photos, and selection and application guides.
Highlights:

Selection criteria for choosing position or distance measurement products
Easy to read technical specs
Beautiful, full color photos and application images
Technical drawings and photos for every part number
Short order codes added for quick website access
Balluff's Linear Position Sensing and Measurement Catalog is available in both printed and electronic formats. Order your copy today or view the PDF at this link.
In addition to measurement products, Balluff also offers complete product offerings for: object detection, industrial identification, machine vision, distributed modular I/O and bus network solutions. With over 90 years of experience and over 50 subsidiaries worldwide, Balluff continues to lead the way in innovative technology and superior quality and service.