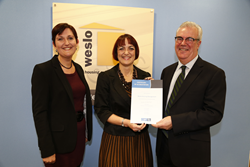 We are delighted to be the first company in Scotland to receive all three awards, it is a great achievement which is a testament to the work of our team
Edinburgh, Scotland (PRWEB UK) 19 November 2014
Weslo Housing Management (HM) has been presented with IIP Gold accreditation, the IIP Health & Wellbeing award and the Investors in Young People (IIYP) accreditation.
Achieving the IIP Gold accreditation puts Weslo HM in the top seven per cent of all IIP accredited organisations in the UK. The Health & Wellbeing award illustrates that Welso HM takes measures to maintain good employee health and the IIYP award demonstrates the organisation's desire to continually recruit, develop and retain young people.
Chief Executive of Investors in People Scotland, Peter Russian said "By becoming the first organisation to accomplish all three awards is a real mark of the high esteem in which Weslo HM holds its people. This represents a true commitment to employees and demonstrates a solid foundation of good practice which remains challenging and aspirational for many organisations.
"Weslo HM is one of the first dozen organisations in Scotland to achieve the IIYP accreditation. Its dedication to the employment and development of young people cannot be understated."
Weslo owns 2,300 properties in West Lothian and Bo'ness and is the estate manager to over 3,500 private owners who have acquired their properties through Right to Buy. The organisation which employs 81 people across its two offices has an annual turnover of over £8.5million.
Mike Bruce, chief executive of Welso HM, said: "We are delighted to be the first company in Scotland to receive all three awards, it is a great achievement which is a testament to the work of our team.
"We are wholeheartedly committed to our people and look forward to working closely with IIP to ensure continuous improvement."