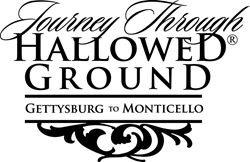 Middleburg, Va (PRWEB) November 20, 2014
In collaboration with Ancestry, and its affiliates Fold3.com and AncestryK12.com, the Journey Through Hallowed Ground Partnership is inviting teachers to participate in a professional development seminar on how to engage students in a service-learning program using primary source-based research. This service-learning program introduces students to primary source documents as they examine fallen Civil War soldiers from their own communities. By learning about these men, history—both local and national—comes alive for the participating researchers. As they get to know "their" soldier, students make connections between their lives and those that came before them, ultimately allowing them to understand that this war impacted every single American.
Once completed, the research is used for the Journey Through Hallowed Ground Partnership's Living Legacy Tree Planting Project, an initiative with the goal of planting one tree for each of the 620,000 fallen Civil War soldiers, becoming the first national memorial for the most defining time in our nation's history. Students around the country are already conducting research on the individual lives of these soldiers, which are then uploaded and shared through an online, interactive map. This map indentifies every tree planted through a geotag, which allows visitors the opportunity to learn the name and story of the young man for whom the tree is planted, with photos, diary entries, and letters home also shared. To date, over 300 students in Virginia, Pennsylvania, Massachusetts, and Vermont have collected information on over 800 soldiers. Additionally, over 5,000 facts, images, and stories have been uploaded to the Honor Wall pages hosted by Ancestry.com's affiliate site, Fold3.com.
The Living Legacy Teacher Seminar will be held 10:00-4:00 p.m. on December 7-8 at the National Sporting Library & Museum in Middleburg, Va. This free, two-day professional development seminar is being offered to any educator interested in bringing this groundbreaking curriculum and service-learning project to their students. Throughout this program, participating educators will receive in-depth training in genealogy research as led by Ancestry.com experts and participate in stimulating discussion on the role, value, and implementation of service-learning curriculum. Participants will also be the first to see, and provide feedback, on a new curriculum being developed, known as Living Legacy Tree Planting Project: A Teacher's Guide to Engaging Students with the National Civil War Memorial, which will connect the social sciences to language arts, STEM, and GIS (geographic information system) standards of learning.
Attending teachers will receive a $350 stipend in return for their time and to help defray any travel and accommodation expenses. Lunch will also be provided both days. In return, all participating educators must commit to incorporating portions of the Living Legacy curriculum into their classrooms before the end of the current school year.
Two other teacher seminars have been held to date, including one hosted at Thomas Jefferson's Monticello, which brought teachers together with industry leaders such as the Virginia Geographic Alliance and ESRI. A second teacher seminar was held at Manassas National Battlefield in partnership with Ancestry.com experts. The goal of the third seminar, which is funded in part by a grant from Ancestry, is to identify and train 30 teachers that will be able to engage an additional 2,000 students across the country.
The Journey Through Hallowed Ground Partnership is a non-profit organization dedicated to raising awareness of the unparalleled historic, natural, and cultural landscape stretching from Gettysburg, PA, to Thomas Jefferson's Monticello in Charlottesville, VA. The National Sporting Library & Museum, located within the heart of the Journey Through Hallowed Ground National Heritage Area, is conveniently located 20 miles from Dulles International Airport in Middleburg, Va. Teachers interested in registering for the seminar can visit http://www.hallowedground.org. To learn more about the National Sporting Library & Museum, visit http://www.nslm.org.