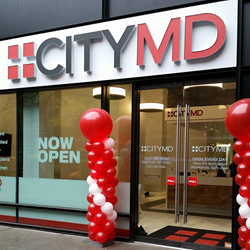 "The people of Manhattan have been an important part of CityMD's success. Since the opening of our first office on the Upper East Side, patients have embraced us and trusted us with all of their healthcare needs." - CEO, Dr. Richard Park
New York, New York (PRWEB) November 19, 2014
CityMD has officially opened their second brand new urgent care office in Union Square. The office located at 216 East 14th Street, between 2nd and 3rd Avenue marks CityMD's eighth location in Manhattan with two more Manhattan locations scheduled to open in 2014 and two more early 2015.
Founded in 2010, CityMD has grown to a network of over 30 urgent care offices throughout New York City, Long Island, Westchester and Rockland County, with the sole mission of putting patients' first in healthcare.
"The people of Manhattan have been an important part of CityMD's success. Since the opening of our first office on the Upper East Side, patients have embraced us and trusted us with all of their healthcare needs. We are honored to open our doors here yet again, in Union Square East," said CEO, Dr. Richard Park.
CityMD employs all board-certified physicians who are highly trained in treating a wide variety of illnesses and injuries. CityMD provides laboratory services, vaccinations, on-site x-ray and have a dedicated team of Aftercare specialists. CityMD locations are open 365 days a year, welcome walk-ins for both adult and pediatric care and accept most major health insurances.
For additional information about CityMD and a list of locations, please visit http://www.citymd.com.