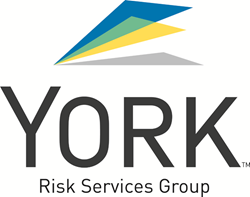 Risk control is a critical service we offer. Randy Thornton will be a great asset to the York team.
Parsippany, New Jersey (PRWEB) November 17, 2014
York Risk Services Group (York), a premier national provider of claims-management, specialized loss adjusting, alternative risk programs, pool administration and other insurance services, today announced that Randy Thornton has joined the company as President of Risk Control. York's Risk Control division provides loss control, underwriting inspection and other risk management services as well as a customizable, online risk control resources library to clients. Thornton's responsibilities will include new business development, diversifying and growing the company's overall risk control service offerings, and expanding services developed for the energy industry.
Prior to joining York, Thornton held a variety of leadership positions in underwriting, loss control and operational management, most recently with a high-performing MGA and Lloyd's of London syndicate.
"Randy has 20 years of industry experience and will be a great asset to the York team," said Rick Taketa, President and CEO of York Risk Services Group. "Risk control, including safety and loss control consulting, is a critical service we offer. By helping our clients identify and understand loss drivers and trends in their workplaces, we can deepen our partnership and facilitate the proactive management – and even prevention – of claims, and increase the cost savings York can deliver."
"It's exciting to be part of a such a dynamic and successful team, and I am looking forward to delivering industry leading risk control solutions that help drive the ongoing success of our clients and contributing to York's continued growth," added Thornton.
Thornton earned a Bachelor of Science in Finance degree from the University of South Florida - College of Business Administration. He is also a graduate of the MSEC Executive Leadership Program.
###
About York Risk Services Group
York Risk Services Group Inc. is a premier provider of risk management, claims handling, specialized loss adjusting, managed care, pool administration, loss control and other insurance services nationwide. York provides risk management and managed care solutions to a variety of strategic partners, including insurance carriers, self insureds, brokers, wholesalers, MGAs, programs, risk pools and public entities. The third largest TPA in the U.S., York delivers customized claims solutions for all lines of business, including property, liability, products liability, ocean and inland marine, environmental, transportation and logistics, construction and workers' compensation. Based in Parsippany, New Jersey, York and has over 90 offices in the US and a strong international presence. Visit us on the web at http://www.yorkrsg.com.