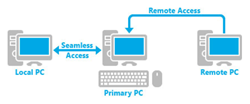 Multiplicity uniquely provides a single point of seamless access and control to local and remote PCs
Plymouth, MI (PRWEB) November 18, 2014
EdgeRunner today released Multiplicity 3.2, extending its remote desktop IP-KVM capability with new remote PC access controls. The product is now available for download on EdgeRunner's website. Multiplicity 3.2 delivers secure remote PC access with new capabilities ensuring remote connections are authorized and auditable.
"Multiplicity's combination of remote PC access and virtual KVM provides unique capabilities enabling anyone working with multiple computers to use one keyboard and mouse to switch between PCs located on their desk or anywhere on the network" said EdgeRunner President Jamie McGuffie. "Virtual KVM and Multiplicity are replacing hardware KVM switches and expensive remote access software by providing a single point of seamless control to the end user.
Multiplicity 3.2 delivers:

Unique session connect codes that authorize remote PC connections
Automatic remote session time limits
Ability to wake up remote PCs and connect (Wake-On-LAN)
Option to require encrypted connections between PCs
Ability to record remote connections in the event log
'View only' or 'view and control' remote PC access options
"Multiplicity 3.2 delivers another round of innovation, advancing EdgeRunner's vision of modern software publishing: best-in-class products that are simple to deploy across entire businesses and supported by a dedicated, professional staff" said Chris Kowal, EdgeRunner VP of Marketing. "Multiplicity is trusted by businesses where reliability and uptime are critically important".
Leading brands in the public safety, emergency response, process control, securities trading, automotive and IT business support industries worldwide are benefiting from the advancement of software solutions like Multiplicity that virtualize and replace hardware capabilities.
About EdgeRunner – Based in Plymouth, Michigan, EdgeRunner is a software publisher dedicated to bringing innovative, independently developed solutions to market. Best-in-class feature sets combined with simple deployment and industry-leading support make EdgeRunner software like Multiplicity KVM the obvious choice for professionals and businesses alike.