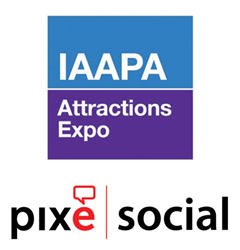 Pixe helped us interact with our brick and mortar fans that visited LEGOLAND in a fun and unique way through social media. –LEGOLAND Florida
Columbia, MD (PRWEB) November 18, 2014
Pixe Social, developers of award-winning mobile marketing solutions and partner of the International Associations of Amusement Parks and Attractions (IAAPA) for over a year, is exhibiting at the 2014 Expo in Orlando, FL. As the Official IAAPA Attractions Expo 2013 social photo booth, Pixe Social's tablet-based digital marketing software, Pixe Encore, captured 903 photos extending the event's reach to over 48,235 fans on Facebook. The IAAPA Attractions Expo Facebook Page saw significant outreach to 106,306 fans generating 246,637 social impressions.
Over the past year, Pixe Social has grown significantly, working with successful brands and events such as Six Flags, New York Comic Con, and Bennett's Curse Haunted House. As the primary social media marketing solution for Bennett's Curse during October of this year, Pixe Social increased the recorded Facebook Page Likes by 109% as compared to the same time period in 2013.
"Pixe helped us interact with our brick and mortar fans that visited LEGOLAND in a fun and unique way through social media." –LEGOLAND Florida
Pixe Social also expanded its array of social marketing solutions with a free smartphone app, Pixe Snap. Pixe Snap is a state-of-the-art consumer engagement app, integrated with leading social media sites in real-time and available for download to entertain and grow audiences. Offered to family fun centers, amusement parks, waterparks, and attractions as a fully customizable and branded solution, Pixe Snap enables fans to take their photos and share friends and family online in real-time.
Pixe Social digital marketing solutions provide an easy means for brands to instantly engage with customers as well as grow their audiences all year round. We invite IAAPA Show 2014 attendees to visit the Pixe Social booth 2164 to learn more about our interactive destination entertainment solutions.
About Pixe
Pixe Social is a Maryland-based start-up providing turnkey social promotional solutions that is on a mission to take the challenge out of social media marketing by converting audiences into brand ambassadors. Launched in April 2013, Pixe's flagship social marketing solution - Pixe Encore - to help boost the social presence of a number of leading brands and events including New York Comic Con, IAAPA and EXHIBITOR Magazine.