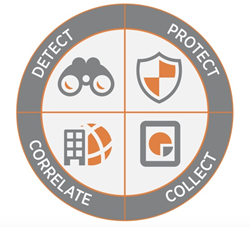 SmartPoint Guard consists of Clone System's proprietary monitoring and security solutions, coupled with Carousel's unrivalled integration experience and managed services.
Exeter, RI (PRWEB) November 18, 2014
Carousel Industries, a leader in unified communications, managed services, data solutions, and security, announced that it has extended its SmartPoint Guard managed services offering powered by Clone Systems to include voice and video data protection. According to Clone Systems, attacks to UC networks can cost up to $4 billion a year. This includes the actual cost of the hack, as well as, loss of productivity to fix the vulnerability on the system.*
To mitigate and eliminate voice and video data breaches, companies need to consistently monitor voice activity on their networks. By enrolling in Carousel's SmartPoint Guard program, powered by Clone Systems, companies can access a suite of proven network security services that consistently monitor and detect for malicious activity, while preventing intrusions and improving compliance for enterprise customers. SmartPoint Guard consists of Clone System's proprietary monitoring and security solutions, coupled with Carousel's unrivalled integration experience and managed services.
"Each week there is a new story on a major data security breach, while voice and video security are often left out of the discussion entirely," said Jeffrey Hewson, National Sales Director, Data Networking Group at Carousel Industries. "As companies realize the potential of unified communications, hackers are actively pursuing the path of least resistance in illegally accessing corporate data. This is often voice related information pertaining to credit cards, personal information, and even corporate financial results. Through our continued partnership with Clone Systems, we can help companies eliminate the possibility of such a data breach."
With the broad adoption of unified communications technologies, enterprises have become increasingly decentralized, with employees — and executive staff — often working from remote locations. As a result, companies have become more dependent on live streaming, teleconferencing and videoconferencing for meetings, as employees connect to the network using an increasing variety of mobile devices. This massive increase in voice and video data has created an unprecedented opportunity for hackers, who can more easily access this information since it is typically running on the same corporate data network.
"When people make phone calls, they are often communicating about sensitive topics and sometimes sharing financial information — such as credit card data," said Richard Daw, COO at Clone Systems. "If someone is listening in on that network, that data is compromised. As a top integrator, Carousel routinely speaks with its customers about security and is very aware of this threat. The enhanced SmartPoint Guard program alleviates these concerns and provides a structured, proven approach to preventing potentially millions of dollars worth of lost data."
To learn more about SmartPoint Guard powered by Clone Systems, please visit http://www.carouselindustries.com/solutions/managed-services/security-solutions.
*Source: Clone Systems Press Release, Clone Systems Explains How Overlooking Voice and Video Security Can Cost Billions, October 1, 2014. http://www.prnewswire.com/news-releases/clone-systems-explains-how-overlooking-voice-and-video-security-can-cost-billions-277727471.html
About Carousel
Carousel Industries consults, integrates, and manages technology solutions that solve business problems and contribute to your organizations' growth. This includes unified communications, managed services, virtualization, Voice over IP (VoIP), video conferencing and collaboration and data infrastructure solutions.
Today we have over 6,000 customers, including 35 of the Fortune 100. Carousel has been recognized by both VAR and CRN Magazines as one of the top technology integrators in the US and we've been listed in the Inc. 500/5000 seven times. Carousel is headquartered in Exeter, RI, with over 1,000 employees working from offices in 30 locations across the US, including over 250 service technicians deployed across the country. For more information visit: http://www.carouselindustries.com
About Clone Systems
Clone Systems secures more than 1,500 customers by preventing over 50,000 attacks every day. Their Security Operation Centers (SOCs) are responsible for continuously monitoring approximately 5 million end users and conducting at least 40 million vulnerability scans on a daily basis. Clone's proprietary Clone Guard® Security Solutions Suite ensures businesses are protected against an evolving threat landscape by detecting malicious activity, preventing security threats, and improving ongoing compliance.