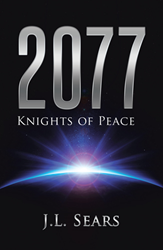 I recognized that within the world of science there was an arrogance by many that all reality could be explained away in terms of science and that mankind could do anything it wanted, side-stepping morals and the ultimate source of truth
Hitchin, UK (PRWEB) November 20, 2014
According to a monograph by Milton Leitenberg, 231 million people died in wars and conflicts throughout the 20th century. Ordnance—from bullets to bombs to WMDs—is so powerfully destructive that the consequences of it being used by malevolent groups who also have access to data encryption and the Internet are a problem humanity already faces.
In author John Sears' view, the problem somehow has to be tackled without using violence, since violence only causes escalation into more violence. The solution also must come without destroying freedom of thought or speech.
The main character in futuristic thriller 2077: Knights of Peace, joins a team sworn to destroy all ordnance in the world, so that even the law enforcement bodies have no weapons. Novel techniques help the group locate and neutralize minorities threatening violence.
"I wrote the novel over five years while converting from a purely materialistic worldview to an expanded one which encompasses both God and science," Sears said.
Throughout the 1970s, Sears worked in the INSPEC division of the Institution of Electrical Engineers in the U.K. and published two papers on an electronic method for collecting and exchanging information worldwide before the Internet. After a long career working with scientists, Sears realized in retirement there was something lacking in the scientific worldview.
"I recognized that within the world of science there was an arrogance by many that all reality could be explained away in terms of science and that mankind could do anything it wanted, side-stepping morals and the ultimate source of truth," Sears said.
In 2077, which has multiple plot lines, there is a growing awareness that human nature has to change of its own free will. The only sustainable long-term answer is the Divine Light.
For more information, visit John's blog at http://worldpeace2077.blogspot.co.uk.
2077: Knights of Peace
By J.L. Sears
ISBN: 978-1-4525-2017-9
Available on Amazon, Barnes & Noble and Balboa Press.
About the author
Upon retiring, John Sears started a current affairs discussion group, became a Christian, and pursued his lifelong goal of writing a science fiction novel. He volunteers for charity, plays acoustic guitar at a rudimentary level, follows science at a popular level, writes a blog, and reads both Russian literature and New Testament Greek.
For review copies or interview requests, contact:
Jaymie Shook
317.602.7137
jshook(at)bohlsengroup(dot)com
(When requesting a review copy, please provide a street address.)