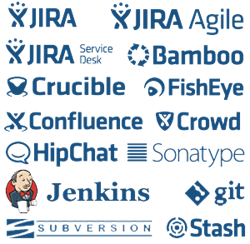 ...software development teams should focus on building quality software, and not worry about the infrastructure that supports it.
(PRWEB) November 21, 2014
Clearvision today released their new comprehensive software development support packages, covering the entire Atlassian stack, Git and other industry leading software development tools.
With more of the largest organisations developing their own software than ever before, supporting the vast array of development tools is becoming increasingly complex, and expensive.
The new packages now offer Enterprises a wider choice than ever with 24/7 technical support and unlimited tickets, to pay as you go contracts for more flexibility.
Clearvision Managing Director, Gerald Tombs, said: "This new offering is testament to our commitment to the Enterprise and our belief that software development teams should focus on building quality software, and not worry about the infrastructure that supports it".
The biggest change to Clearvision's support packages is the addition of the Atlassian Premier Support and Atlassian Premier Support Plus packages.
Atlassian Premier Support offers global support for the leading development tools on the market, including JIRA, Confluence, Stash and Bamboo. Highlights include:

24/7 technical support for all of the Atlassian tools.
Unlimited support tickets.
Enhanced SLAs including a 30 minute response time for business critical tickets.
Licenses can be procured by Clearvision and managed by an Account Manager.
Atlassian Premier Support Plus offers all of the above with the addition of more named contacts and coverage of additional software development tools including:

Nexus
Sonar
Jenkins
Subversion
Git
Bitbucket
IBM Rational Tools
Selected Atlassian Marketplace plugins
Clearvision's team have a broad knowledge of all of the leading software development tools on the market, with the majority now forming part of the Spectrum ALM toolset.
The most comprehensive support package that Clearvision offer is Enterprise support. This new package allows organisations to tailor a solution for their needs.
Built on top of the Atlassian Premier Support Plus model clients can select the following options:

Administration support (e.g. workflow development, custom fields, user management
Proactive support monitoring
Regular health checks and reports
Bi-annual tool upgrades
Security patching and updates
First line support
Dedicated on-site resource(s)
The Enterprise Support package moves away from the traditional support model to a complete out sourced support solution.
Finally, the remaining two options are Clearvision's most flexible – designed with smaller organisations or projects in mind.
Pay As You Go is perfect for teams that want support without a contract. Clients can purchase 20 hours at a fixed fee and can use the hours when they need to.
Monthly support operates on a fair usage basis and is ideal for organisations that need ongoing support but are not sure about duration.
Regardless of the package clients benefit from senior technical expertise and market leading account management.
Every account has an account manager who will learn a client's environment intimately, ensuring issues are resolved as soon as possible.
To learn more please visit: http://www.clearvision-cm.com/support/ or contact the US team on +1 (215) 854 4055 today.