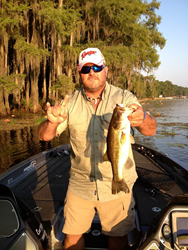 People compete at this level because it's in their hearts. Not because it's a job.
MINNEAPOLIS, Minn. (PRWEB) November 18, 2014
Alligator hunter T-Roy Broussard, star of the History Channel's hit series 'Swamp People' will be joining the 2015 Walmart FLW Tour to compete as a professional bass angler. FLW has welcomed high-profile celebrities in its bass-fishing tournaments before, but Broussard's decision marks the first time a television star will join pro bass fishing's top level as a full-time angler.
"I'm going in there to compete," Broussard said. "I'm going to do everything that I can to prepare and make sure that I am ready to fish against the best anglers in the world on the FLW Tour. My work ethic has prepared me to compete at this level and I have very high expectations for myself."
In FLW Tour competition, bass anglers compete in six regular-season events around the country, casting for the sport's largest purses ($125,000 for first place) and valuable points in hope of qualifying for the Forrest Wood Cup, the world championship of bass fishing. The 2015 FLW Tour will kick off in Kissimmee, Florida, March 5-8 on Lake Toho.
Broussard has spent most of his life as an outdoorsman and is no stranger to the bass fishing world. As a teenager in Beaumont, Texas, he was an avid duck and goose hunter as well as a world class duck caller. A savvy businessman, Broussard took over his father's alligator hunting business in 2006 before joining History Channel's 'Swamp People' in 2013.
Broussard competed this year at the AAA-level Rayovac FLW Series where he notched two top-10 finishes and qualified to compete on the FLW Tour.
"People compete at this level because it's in their hearts," said Broussard. "Not because it's a job."
To follow T-Roy's season competing against the top anglers in the world on the FLW Tour visit FLWOutdoors.com. For regular updates, photos, tournament news and more, follow FLW on Facebook at Facebook.com/FLWFishing and on Twitter at Twitter.com/FLWFishing.
ABOUT FLW
FLW is the industry's premier tournament-fishing organization, providing anglers of all skill levels the opportunity to compete for millions in prize money nationwide in 2014 over the course of 229 tournaments across five tournament circuits, four of which provide an avenue to the sport's richest payday and most coveted championship trophy – the Forrest Wood Cup. FLW tournament fishing can be seen on the Emmy-nominated "FLW" television show and is broadcast to more than 564 million households worldwide, making it the most widely distributed weekly outdoors-sports television show in the world. For more information about FLW visit FLWOutdoors.com and look for FLW on Twitter, Facebook, Instagram and YouTube.