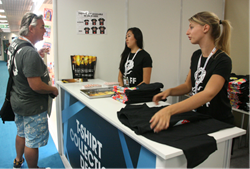 "For all the print techniques on the market we specialise in fulfilling express orders, direct to the venue. At least 50 per cent of our present requests from the events industry are from clients who have been let down by their preferred supplier.
London, UK (PRWEB UK) 20 November 2014
Garment Printing specialist team that exclusively supports the UK's meeting, events and exhibitions industry grows in 1st month creating higher than expected results for Q4. The team oversees any printed & embroidered item fulfilment for clients' promotional, business and incentive campaigns. The motivation to create the division stems from its clients taking full advantage of the Preferred Supplier benefits offered by Garment Printing. These include express delivery, 30-60 days payment terms, unlimited print capabilities, quality assurance guarantees and express same day and next day UK & European delivery.
The printing company has a solid track record providing printed & embroidered products to these service areas. Some clients and events include: Cannes Lions, Tesco, Google, RSPB, Marketing Week, The London Olympics, Give Blood, Tesco, and FESPA. The company's new team has already successfully positioned itself as the go-to preferred supplier printing company for many international events organisers, venue owners, and exhibition companies.
Explaining the rationale for launching the new team Gavin Drake, Director of Garment Printing said, "We surveyed our client base in June this year and qualified our unique differentiator in the print market is quality assurance and speed of delivery. Our competitors do not offer the high quality assurance levels that we do. In the unlikely event of a bad print run, we offer the client either a reprint or a refund. This is subject to individual the need of the client. For consumers this is very attractive offering. It empowers them with the same privileges and services that normally businesses solely enjoy."
Drake spoke about express delivery services direct to the venue for the meeting industry, "For all the print techniques on the market we specialise in fulfilling express orders, direct to the venue. At least 50 per cent of our present requests from the events industry are from clients who have been let down by their preferred supplier. This happens always at the last moment. Thanks to our supply chain & IT infrastructures we can offer this express delivery service at the press of a button. We have saved many a brands bacon more times than I can count and we love it. Its fast, efficient and a challenge. There's obviously an increase in price verses usual delivery charges, but you get what you pay for, and in our case its quality, its professional, and its guaranteed."