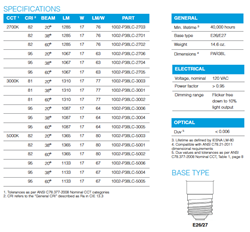 We're committed to constantly refining our spec-quality bulbs. … Our new line also increases efficiency, with greater lumens output and output per watt at a lower cost. - Stephen Naor
Ottawa, ON (PRWEB) November 19, 2014
Leapfrog Lighting, already a leader in spec-quality LED lamps for specialized business purposes, today announced a higher-efficiency, lower cost Energy Star certified PAR series. The new bulbs immediately replace the previous industry-standard PAR bulbs from the innovative company—known for stringent quality, and especially light quality.
"This is really pushing light quality and light output to the next level," explained Stephen Naor, CEO of Leapfrog Lighting. "We're committed to constantly refining our spec-quality bulbs. Ultra consistent color temperature control is a given with our PAR bulbs. Our new line also increases efficiency, with greater lumens output and output per watt at a lower cost."
With 18 models available for each bulb style and with a choice of CRIs of 81 or 95—even the most demanding business or display application can be implemented. Leapfrog Lighting's PAR bulbs are popular with art galleries, museums and high-end retail stores where environment and product display is critical. CRI is a quantitative measure of a bulbs ability to reproduce colors faithfully.
"This isn't about revolutionary change," explained Mr. Naor. "Our PAR line was already among the best for what we call Total Light Quality. We're nuancing what was already a top performing lamp."
The bulbs are generally suited for any application where color consistency and display quality is critical, but is also often chosen for pleasing office environments, general household lighting or for any suitable fixture where consistent quality is desirable.
"Yes, these are among the most efficient bulbs on the market," explained Mr. Naor. "But our PAR line is designed for anyone who wants that efficiency without compromising color, consistency, light quality."
Minimum expected lifetime is 40,000 hours. All bulbs are dimmable, and flicker free down to 10% light output.
The Energy Star certification applies to the 3000K versions of the bulbs in all of PAR 20, 30 and 38. These 3000K bulbs are available with various CRIs and beam angles (from 24 degrees to 60 degrees)—18 models available. All bulbs, are UL certified.
The bulbs are distributed through some select distributors, and direct to customers and trades. They are also available online in the Leapfrog Lighting shop.
About Leapfrog Lighting
The current Leapfrog Lighting spec-quality product line includes MR16, PAR20, PAR30 and PAR38 lamps that provide industry-leading output power through high-efficiency LED source and driver electronics. The innovative lens design creates a pleasing, glare-free light suitable for use in all indoor and unexposed outdoor down-lighting applications. The lamps also deliver the high CRI and ultra-consistent color temperature control critical to multi-lamp applications in hotels, restaurants, schools, office buildings, museums, galleries, retail operations and other public spaces. With a life expectancy of 40,000 operating hours, these UL-registered lamps will provide more than 27 years of service at 4 hours per day.
"Leapfrog Lighting intends to be the current and future benchmark in quality of light for years to come," said Stephen Naor of Leapfrog.
*Total Light Quality and TLQ are trademarks of Leapfrog Lighting.