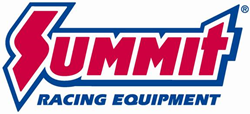 Tallmadge, OH (PRWEB) November 21, 2014
It's not too early to get ready for the 2015 drag racing season. Summit Racing has the parts needed for all classes of drag racing, including these new products from Dedenbear, RHS, and La Cross Technology.
Dedenbear STSK Stepper Throttle Stop System
Dedenbear's STSK Stepper Throttle Stop System provides the consistency of an electric stop with the adjustability of an air stop. It is digitally controlled so it is very consistent and not affected by battery voltage, temperature, pressure, and other factors. It can open and close the throttle blades eight separate times during a run at any of nine different rates from 40 to 1,100 degrees per second.
RHS LS Engine Race Blocks
The aluminum blocks can handle big horsepower, especially in a turbo- or supercharged application. Available in standard and tall deck height combinations, the blocks feature a raised cam centerline and outboard main oiling galley. That provides enough rod clearance to swing a 4.600 inch stroke crankshaft and helps minimize power-robbing crankcase windage at high rpm.
More Information
La Crosse Technology Weather Stations
Keep one step ahead of the weather with a La Crosse Technology weather station. Knowing what the temperature—and barometric pressure, humidity, dew point, and other weather factors—can help a racer dial-in their race car for the specific conditions at any track they compete at.
More Information
Summit Racing Equipment
SummitRacing.com
1-800-230-3030