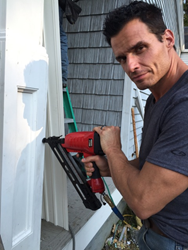 Arrow Fastener makes it fast and easy to find the right stapler, pneumatic tool, glue gun or hammer tacker to meet whatever need we might have during a renovation, from tacking carpets to stringing lights
(PRWEB) November 21, 2014
Arrow Fastener Company, the creator of the iconic T50® stapler, is proud to announce that many of its products, ranging from the PT50™ Pneumatic Stapler to the HT55BL Hammer Tacker and RHT300™ Twister Rivet Tool, were selected for several episodes of the new syndicated home-renovation television show "Fix It & Finish It" with Antonio Sabàto, Jr.
"Fix It & Finish It" is a daily half-hour renovation and design show that overhauls one space in one home every day. The show takes viewers around the country to find homes, cabins, RVs and even tree houses that need a makeover both inside and out. On each episode of "Fix It & Finish It", Sabàto and his team surprise people across the country whose homes are in need of a renovation.
Host Antonio Sabàto first became known for his work as a Calvin Klein model and for his role in the soap opera "General Hospital" on ABC. Since then, Antonio has had a long and varied career which most recently has included guest-starring roles on ABC's "Castle", ABC Family's "Baby Daddy", as well as on the FOX show "Bones" and TV Land's "Hot in Cleveland". He also was a contestant on season 19 of ABC's "Dancing with the Stars" with partner Cheryl Burke.
Sabàto said those featured on the show don't have the money to do the renovation work on their own. "We involve the entire community in our projects. We started in Tucson in September, have made it through the South and will cover almost the entire country. The Arrow tools are terrific. Arrow Fastener makes it fast and easy to find the right stapler, pneumatic tool, glue gun or hammer tacker to meet whatever need we might have during a renovation, from tacking carpets to stringing lights," said Sabàto.
One of the first episodes to include Arrow tools, Shiny New Sunroom, airs in November. To see where and when to view new episodes, visit http://www.fixitandfinish.com/tune-in.
Arrow Fastener Company LLC is a leader in manual, electric and cordless fastening tools for both pros and DIYers. Founded in New York City in 1929, Arrow quickly became synonymous with the T50® staple gun, its flagship product, along with its full range of T50® staples. Building on the success of the heavy duty T50® staple gun, Arrow now markets a full line of pneumatic, electric and manual staplers and brad nailers as well as rivet tools, glue guns, and hammer tackers and a full line of consumables to match. Click here to see a list of retailers that sell Arrow® products.